New For Subscribers
Issue 191 Features:
Editor's Couch: 20th Century Fox To Continue Providing Blu-ray Discs To
Widescreen Review
For Review
New Equipment
• CEDIA 2014 The Ultimate Report Part I: Audio
Your Home Theatre
• Audiophile Headphones: A Study In Spatial Surround Dimensionality Of 24 Over-Ear And On-Ear Headphones Sourced From The Smyth Realiser A8 Eight-Channel Processor And Other Stereo Sources–Part III
Today's News

November 25, 2014


CinemaCon, The Official Convention Of The National Association Of Theatre Owners (NATO), Caesars Palace,Las Vegas, 20-23, April, 2015



November 24, 2014


Genelec Home Audio Unveils G Five Active Loudspeaker



November 24, 2014


Designed for High-Resolution Audio: The New SonicPro ATH-MSR7 Headphones from Audio-Technica



November 12, 2014


THE CRITERION COLLECTION ARRIVES ON FANDOR



November 12, 2014


Dolby Atmos For Home






See What's In
The New Issue Of WSR
or check out all of our
back issues

Subscribe to our RSS feed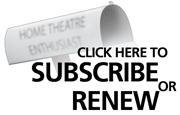 Reason #121 Why Readers Love Widescreen Review:
In my opinion, Widescreen Review is the authority and the reference standard for true unbiased critical reviews of audio/video products and equipment. Unlike other publications, which seem to parallel their articles with their advertising accounts, WSR can be trusted for high integrity of product reviews. Overall, Widescreen Review provides very accurate and satisfying reviews of equipment and DVD releases, not found in any competing publication. Keep up the outstanding work!
James Laurie