New For Subscribers
Issue 196 Features:
Editor's Couch
• The Decline Of The Audiophile/Videophile Home Theatre Market
Equipment Reviews
• Integra DTR-70.6 11.2-Channel Network A/V Receiver
• DARBEE DVP-5100CIE Video Enhancer
Your Home Theatre
• The Final Installment of Audiophile Headphones: A Study In Spatial Surround Dimensionality
• Validity Of X-Curve For Cinema Sound
Also
• On Screen With Smyth Research
• Joe Kane's Color Of Gray And Other UHD Topics
See What's In
The New Issue Of WSR
or check out all of our
back issues

Subscribe to our RSS feed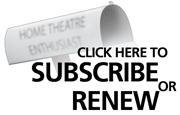 Reason #88 Why Readers Love Widescreen Review:
I just started my subscription to your magazine, but I have already seen great potential with some of the features of the Web Site. I sell high-end home theatre equipment and being able to pull up past and current reviews helps me relate to my customerís needs a lot better. I like to be as knowledgeable as possible with today's technologies, and Widescreen Review really has the potential to help me do that. I am looking forward to getting my first issue soon.
Andy Tripp