New For Subscribers
Issue 195 Features:
Editor's Couch
•
Birdman
Wins American Society Of Cinematographers Theatrical Award And Academy Award® For Cinematography
Equipment Review
• Denon AVR-X7200W Audio-Video Receiver With Dolby Atmos And Auro-3D
Your Home Theatre
• Hollywood Post Alliance Tech Retreat 2015
Also
• 2015 CES: New Dimensions In Audio And Video
See What's In
The New Issue Of WSR
or check out all of our
back issues

Subscribe to our RSS feed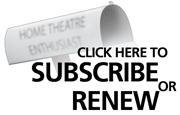 Reason #5 Why Readers Love Widescreen Review:
Widescreen Review is a comprehensive collection of articles that help me shape my Home Theatre Experience. The new equipment section is a great resource when planning for new component additions. The equipment reviews also help to identify equipment attributes that may serve well in my environment. As a newcomer to the field of home theatre, Widescreen Review has helped me to understand some of the terminology, and to begin building my home theatre repertoire. In this area, it is helpful to review the reference systems descriptions, which also give ideas on how to set up my room. The DVD and D-VHS release schedule are also useful. All in all, Widescreen Review is a very easy-to-read magazine with great editorial content and a fantastic artistic layout, including great advertisement pages, which in the end helps me gain control of my Home Theatre Experience!
Kenneth Salyards