New For Subscribers
Issue 196 Features:
Editor's Couch
• The Decline Of The Audiophile/Videophile Home Theatre Market
Equipment Reviews
• Integra DTR-70.6 11.2-Channel Network A/V Receiver
• DARBEE DVP-5100CIE Video Enhancer
Your Home Theatre
• The Final Installment of Audiophile Headphones: A Study In Spatial Surround Dimensionality
• Validity Of X-Curve For Cinema Sound
Also
• On Screen With Smyth Research
• Joe Kane's Color Of Gray And Other UHD Topics
See What's In
The New Issue Of WSR
or check out all of our
back issues

Subscribe to our RSS feed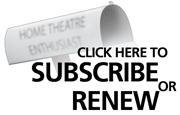 Reason #32 Why Readers Love Widescreen Review:
I read Widescreen Review as a way to dream. I think about the day I make it in life and how I will own only top of the line products featured in your magazine. I think about the parties and social functions at my house and how the centerpiece will be my entertainment system. Though at my current economic standing, it will take me years to be able to afford all the products I want without getting into credit debt, I still see no harm in reading about what will be mine.
Cameron David Martinez