Basic Information on new release titles is posted as soon as titles are announced. Once reviewed, additional data is added to the database.
WSR Detailed DVD Review
Equus

Genre:



Reviewed In

A Future Issue

Of Widescreen Review®



Stars:



DVD General Information

| | |
| --- | --- |
| (Studio/Distributor): | MGM Home Entertainment |
| (Catalog Number): | |
| (MPAA Rating): | |
| (Rating Reason): | |
| (Retail Price): | $ |
| (DVD Type): | |
| (Widescreen Edition): | Yes |
| (Full Screen Edition): | |
| (Anamorphic Widescreen): | No |
| (Running Time In Minutes): | |
| (Color Type): | |
| (Chaptered/Scene Access): | |
| (Closed Captioned): | |
| (Regional Coding): | |
| (Theatrical Year): | |
| (Theatrical Release): | |
| (Direct-To-Video Release): | |
| (DVD Release Date): | 03/04/03 |
| (THX® Digitally Mastered): | |
WSR Narrative Review

Story Synopsis:


DVD Picture:


Soundtrack:



Subscribe to our RSS feed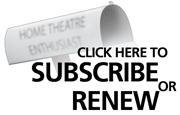 Reason #124 Why Readers Love Widescreen Review:
I read Widescreen Review for its informative articles and DVD and equipment reviews. Most of my DVD purchases come about after reading your reviews. I was also in the market for an intern projector (cheap) until the DLP projector matured and I could afford the more expensive Runco DLP projector. I went through all of my back issues; I have been a subscriber from your very first premier issue, and came across your article on the Sony VPL-HS10 Video Projector. I was so impressed with this article that I called around town to see who carries them and who had one hooked up, so I could review it. I was so impressed with the image quality for a projector in this price range that I ended up purchasing one, even though I was not in the market for an LCD projector. In fact, I have stopped subscribing to other home theatre magazines because I find your magazine to be more informative and straight-to-the-point. Thanks for your informative articles, and keep up the good work.
David Tracy