Basic Information on new release titles is posted as soon as titles are announced. Once reviewed, additional data is added to the database.
WSR Detailed DVD Review
No Reservations





Genre:

Romantic Comedy

Reviewed In

Issue 130 (Apr 2008)

Of Widescreen Review®



Stars:


Catherine Zeta-Jones, Aaron Eckhart, Abigail Breslin, Bob Balaban, Brian F. O'Byrne & Patricia Clarkson
Special Features
Special features include up-front previews and a 21-minute Unwrapped featurette.
DVD General Information

| | |
| --- | --- |
| (Studio/Distributor): | Warner Home Video |
| (Catalog Number): | 1000014126 |
| (MPAA Rating): | PG |
| (Rating Reason): | Some sensuality and language |
| (Retail Price): | $28.98 |
| (DVD Type): | Single Side, Dual Layer (DVD9) |
| (Widescreen Edition): | Yes |
| (Full Screen Edition): | Yes |
| (Anamorphic Widescreen): | Yes |
| (Running Time In Minutes): | 104 |
| (Color Type): | Color |
| (Chaptered/Scene Access): | Yes |
| (Closed Captioned): | Yes |
| (Regional Coding): | 1 |
| (Theatrical Year): | 2007 |
| (Theatrical Release): | Yes |
| (Direct-To-Video Release): | No |
| (DVD Release Date): | 02/12/08 |
| (THX® Digitally Mastered): | No |
WSR Narrative Review

Story Synopsis:
As one of New York's most celebrated chefs, Kate (Zeta-Jones) is well suited to prepare the most delicious quail with truffle sauce anyone's ever tasted. But when she is asked to raise her recently orphaned niece Zoe (Breslin), she finds herself a completely clueless surrogate parent. With the help of a newly hired junior chef, Nick (Eckhart), Kate has No Reservations as she begins to navigate the unfamiliar and confusing world of fish sticks and school supplies. (Stacey Pendry)

DVD Picture:
The anamorphically enhanced 2.36:1 DVD is hampered by noticeable compression artifacts that can be a major distraction. Many scenes look very soft because of the high levels of compression, and "mosquito noise" is often a distraction. The image generally looks noisy. Black levels are fairly adequate, but shadow delineation is limited. White levels occasionally can bloom, but colors can be nicely balanced. Edge enhancement is noticeable over higher contrast transitions, but the high levels of compression generally make it a non-factor. (Danny Richelieu)

Soundtrack:
The Dolby® Digital 5.1-channel soundtrack favors the front three screen channels for the majority of the presentation, although the surround channels can be used to create a fairly believable soundstage at times. Dialogue fidelity can be good, but there are many times when it sounds edgy and distorted as well as forward sounding. Shuffling noise can be heard at times throughout, as can high-pitched ringing from time to time. (Danny Richelieu)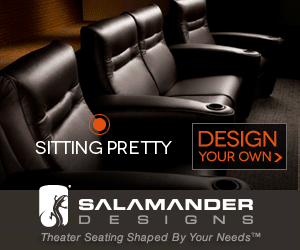 Subscribe to our RSS feed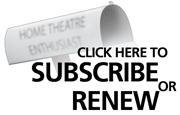 Reason #80 Why Readers Love Widescreen Review:
I subscribe to several magazines because each one has a different bias, and they obviously don't always write about the same things. I purchase magazines at the newsstand when a particular article or review interests me enough that it's a keeper. I consider Widescreen Review to have the most professional bias of the home theatre magazines. Whereas something like Sound & Vision, I would consider to be more of a consumer bias. One of the things I like about Widescreen Review is the articles about the industry and technical articles (e.g., room setup). I also like its detailed equipment reviews that tell it like it is. One other item of note would be the DVD reviews. I like the ratings, the short descriptions, and the technical information.
Mark A. Okrzesik