Basic Information on new release titles is posted as soon as titles are announced. Once reviewed, additional data is added to the database.
WSR Detailed DVD Review
Blue Planet, The: Seas Of Life





Special Edition

Genre:

Documentary

Reviewed In

Issue 126 (Dec 2007)

Of Widescreen Review®



Stars:


Narrated by David Attenborough
Special Features
Special features on Disc One include the Making Of The Ocean World (ten minutes) and Making Of The Frozen Seas (ten minutes) featurettes, an interview with Photographer Doug Allan, a photo gallery, a music video, and a fact file. Disc Two includes the following featurettes: Making Of Open Ocean (nine minutes), Making Of The Deep (nine minutes), an interview with Researcher Penny Allen, a photo gallery, and a fact file. Disc Three includes the following featurettes: Making Of Seasonal Seas (nine minutes), Making Of The Coral Seas (nine minutes), an interview with Producer Alastair Fothergill, a photo gallery, a fact file, and trailers. On Disc Four there are the following featurettes: Making Of The Tidal Seas (nine minutes), Making Of Coasts (nine minutes), Deep Trouble (49 minutes), a photo gallery, a fact file, and trailers. And Disc Five includes the following documentaries: Amazon Abyss (52 minutes), Dive To Shark Volcano (52 minutes), Being There: Antarctica (30 minutes), and Being There: Between The Tides (28 minutes).
DVD General Information

| | |
| --- | --- |
| (Studio/Distributor): | BBC Video |
| (Catalog Number): | E4136 |
| (MPAA Rating): | Not Rated |
| (Rating Reason): | |
| (Retail Price): | $59.98 |
| (DVD Type): | Five Disc Set: DVD-9 |
| (Widescreen Edition): | Yes |
| (Full Screen Edition): | No |
| (Anamorphic Widescreen): | Yes |
| (Running Time In Minutes): | 392 |
| (Color Type): | Color |
| (Chaptered/Scene Access): | Yes |
| (Closed Captioned): | Yes |
| (Regional Coding): | 1 |
| (Theatrical Year): | 2001, 2002 |
| (Theatrical Release): | No |
| (Direct-To-Video Release): | No |
| (DVD Release Date): | 10/02/07 |
| (THX® Digitally Mastered): | No |
WSR Narrative Review

Story Synopsis:
The Blue Planet: Seas Of Life was five years in the making and had a budget of more than $10 million dollars. Presented by Sir David Attenborough, this comprehensive documentary explores the world's last unknown frontier—our ocean. With groundbreaking footage, you will see some of the ocean's most guarded secrets and spectacular creatures. (Stacey Pendry)

DVD Picture:
Understandably, the anamorphically enhanced 1.78:1 DVD is swathed in blue, but there is little definition or variation in the full-color fields, making the image look flat. Details are not resolved well, with a soft appearance that adds to the unnaturalness of the presentation. Compression artifacts riddle the screen, and edge enhancement is noticeable throughout. (Danny Richelieu)

Soundtrack:
The Dolby® Digital 2.0-channel soundtrack features a solid stereo spread for music and effects, and fidelity is adequate, although narration can sound harsh at times. The front stage can sound fairly deep, but the breadth of the stage rarely expands out beyond the physical locations of the loudspeakers. (Danny Richelieu)


Subscribe to our RSS feed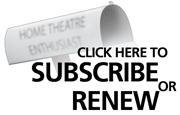 Reason #11 Why Readers Love Widescreen Review:
It's really quite simple; the main reason that I read Widescreen Review is because of the overall quality of content and the fact that I can rely upon the writers to provide an open-minded presentation of cutting edge technology as it unfolds in "real time." I read Widescreen Review to stay informed, entertained, and to learn valuable facts that have the added benefit of saving me money through empowering me to make wise decisions regarding the features and capabilities of the equipment I choose to purchase. While my home theatre is modest, I admire, and am inspired by Widescreen Review's dedication to speaking of and working towards a golden standard for the reproduction of video in the home. I may not be able to afford the very top-of-the-line components, yet with proper information I have found that there is no reason to settle for anything less than the best than I can afford. I choose to read Widescreen Review because of the clarity of its purpose, as well as the consistent delivery of its mission and message. I enjoy reading it every month, it saves me money, and it makes me a more informed consumer with every passing issue. You really say it all in your title "The Essential Home Theatre Resource" and deliver on your promise with intelligent passion inside each issue. Every consumer responds to good value, and that's what I find in the combination of the information I learn, the money I save, and the manner in which I am entertained rather than sold to. Thanks for the fine job that you all do, I appreciate it and so do those I've shared your publication with.
Michael Northern