Basic Information on new release titles is posted as soon as titles are announced. Once reviewed, additional data is added to the database.
WSR Detailed DVD Review
Perfect Score, The

Widescreen

Genre:

Comedy Drama

Reviewed In

Issue 87 (Aug 2004)

Of Widescreen Review®



Stars:


Erika Christensen, Chris Evans, Bryan Greenberg, Scarlett Johansson, Darius Miles, Leonardo Nam & Tyra Ferrell
Special Features
Special features include audio commentary by director Brian Robbins and screenwriter Mark Schwahn, a Making The Perfect Score featurette (22 minutes), and a trailer.
DVD General Information

| | |
| --- | --- |
| (Studio/Distributor): | Paramount Home Entertainment |
| (Catalog Number): | 33683 |
| (MPAA Rating): | PG13 |
| (Rating Reason): | Language, sexual content and some drug references |
| (Retail Price): | $29.99 |
| (DVD Type): | Single Side, Dual Layer (DVD9) |
| (Widescreen Edition): | Yes |
| (Full Screen Edition): | No |
| (Anamorphic Widescreen): | Yes |
| (Running Time In Minutes): | 93 |
| (Color Type): | Color |
| (Chaptered/Scene Access): | Yes |
| (Closed Captioned): | Yes |
| (Regional Coding): | 1 |
| (Theatrical Year): | 2003 |
| (Theatrical Release): | Yes |
| (Direct-To-Video Release): | No |
| (DVD Release Date): | 06/29/04 |
| (THX® Digitally Mastered): | No |
WSR Narrative Review

Story Synopsis:
Ever since he was seven, Kyle (Evans) has known that he wants to be an architect. But when his PSAT score comes back 220 points lower than he needs to be accepted to Cornell University, desperate times call for desperate measures. With a group of friends who also need help with their scores, they plan to steal the answers to the test in order to get The Perfect Score. (Suzanne Hodges)

DVD Picture:
The anamorphically enhanced 1.78:1 DVD picture is comprised of stylized visuals that can appear natural and saturated under warm lights or desaturated cold blues or greens and presented in fast-paced imagery. Images are sharp and detailed, with well balanced contrast and shadow delineation. Rarely does the picture have a soft or smeared appearance. Edge enhancement is noticed at times, but pixelization is limited. While not earning a perfect score, this DVD picture still passes with flying colors. (Suzanne Hodges)

Soundtrack:
The Dolby


Subscribe to our RSS feed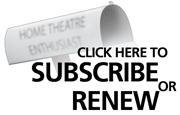 Reason #62 Why Readers Love Widescreen Review:
Widescreen Review is the only place to go for no-nonsense evaluations of the audio and video qualities of a DVD before you drop your hard-earned cash for it. In an industry where the subjective is usually described in the most arcane manner possible (to the exclusion of the unwashed masses), WSR's clear and objective-as-you-can-get reviews give me the information I need to make purchasing decisions confidently.
Sam West