Basic Information on new release titles is posted as soon as titles are announced. Once reviewed, additional data is added to the database.
WSR Detailed DVD Review
Lucky You

Genre:

Drama

Reviewed In

Issue 125 (Nov 2007)

Of Widescreen Review®



Stars:


Eric Bana, Drew Barrymore, Robert Duvall & Debra Messing
Special Features
Special features are limited to the following featurettes: The Players At The Table (18 minutes), The Reel Deal—The Time And Place Of Lucky You (18 minutes), and six deleted scenes.
DVD General Information

| | |
| --- | --- |
| (Studio/Distributor): | Warner Bros |
| (Catalog Number): | 70141 |
| (MPAA Rating): | PG-13 |
| (Rating Reason): | For some language and sexual humor |
| (Retail Price): | $28.98 |
| (DVD Type): | Single Side, Dual Layer (DVD9) |
| (Widescreen Edition): | Yes |
| (Full Screen Edition): | No |
| (Anamorphic Widescreen): | Yes |
| (Running Time In Minutes): | 123 |
| (Color Type): | Color |
| (Chaptered/Scene Access): | Yes |
| (Closed Captioned): | No |
| (Regional Coding): | 1 |
| (Theatrical Year): | 2006 |
| (Theatrical Release): | Yes |
| (Direct-To-Video Release): | No |
| (DVD Release Date): | 09/18/07 |
| (THX® Digitally Mastered): | No |
WSR Narrative Review

Story Synopsis:
Pro-gambler Huck Cheever (Bana) struggles to raise the $10,000 entry fee for the high-rolling World Series Of Poker competition. This high-stakes event will pit his skills against the game's most formidable competitors, including his estranged father (Duvall) who is a two-time tournament champion. While trying to raise the funds needed to enter the poker tournament, Lucky You he thinks, when he meets lounge singer BIlie Offer (Barrymore) and falls in love. ( Stacey Pendry)

DVD Picture:
The anamorphically enhanced 2.33:1 DVD shows good color saturation with a vividness that makes the colors pop from the screen. Blacks are deep and details in the shadows are delivered well. The image can look quite dimensional, but compression artifacts and pixel breakup often damage the picture, and details can occasionally look soft. Edge enhancement can also be noticed at times, but it is minor. (Danny Richelieu)

Soundtrack:
The Dolby® Digital 5.1-channel soundtrack creates a broad front stage with a good use of each full-range channel for atmospheric effects. Fidelity is decent, although dialogue is not as crystal clear as in the best releases. Occasionally the voices' timbre changes as well, probably coinciding with scenes where ADR was used. The soundtrack is decent, but not great. (Danny Richelieu)


Subscribe to our RSS feed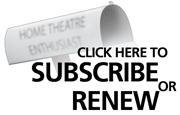 Reason #115 Why Readers Love Widescreen Review:
I read Widescreen Review as my premiere source for the latest in home theatre technology. The articles are extra detailed and packed with detailed information. My theory is the higher level of detail you try to absorb, the more you will actually retain down the road. Kind of like college, where the things you learned in the first two years are engrained because you used the principles over and over again in your last two years
James LeGray