Basic Information on new release titles is posted as soon as titles are announced. Once reviewed, additional data is added to the database.
WSR Detailed Disc Review
Dark Knight, The





Three-Disc Special Edition


Genre:

Action Adventure

Reviewed In

Issue 138 (Jan/Feb 2009)

Of Widescreen Review®



Stars:


Christian Bale, Michael Kane, Heath Ledger, Gary Oldman, Aaron Eckhart, Maggie Gyllenhaal & Morgan Freeman
WSR Review Scores

WSR Picture Rating:

5

DD Sound Rating:

NR

DD Plus Sound Rating:

NR

DD True HD Sound Rating:

5

DTS Rating:

NR

DTS-HD Rating:

NR

DTS-HD Master Audio Rating:

NR

PCM Audio Rating:

NR

WSR Score:

4.5

Download WSR Review
Reference Systems

Critics' Composite Score:

5

Special Features
Disc One special features include the option to play the movie with 21 Focus Points (HD 1:04:10) and BD-Live򢄢 functions. Disc Two special features include a behind-the-scenes picture-in-picture feature in Gotham Uncovered: Creation Of A Scene, two featurettes: Batman Tech (HD 45:59) and Batman Unmasked: The Psychology Of The Dark Knight (HD 46:02), six spoof newscasts in Gotham Tonight (HD 46:41), four stills galleries, three theatrical trailers, and six TV spots (HD 8:48). Disc Three contains a digital copy of the film.
Disc General Information

| | |
| --- | --- |
| (Studio/Distributor): | Warner Home Video |
| (Catalog Number): | 1000026387 |
| (MPAA Rating): | PG-13 |
| (Rating Reason): | Intense sequences of violence and some menace |
| (Retail Price): | $35.99 |
| (Disc Type): | Three-Disc Set: BD-50, BD-25 & DVD-5 |
| (Widescreen Edition): | Yes |
| (Full Screen Edition): | No |
| (Running Time In Minutes): | 152 |
| (Color Type): | Color |
| (Chaptered/Scene Access): | Yes |
| (Closed Captioned): | Yes |
| (Regional Coding): | Not Indicated |
| (Theatrical Year): | 2008 |
| (Theatrical Release): | No |
| (Direct-To-Video Release): | No |
| (Disc Release Date): | 12/09/08 |
| (THX® Digitally Mastered): | No |
WSR Narrative Review

Special Notes:
One Hidden Easter Egg: Select third theatrical trailer on Disc Two and slowly enter on your player's remote 5 6 5 3 7 with two second pauses between number. The screen will go blank and the Joker-ized versioin of the same trailer will play.

Story Synopsis:
The Dark Knight joins Batman (Bale), Lieutenant James Gordon (Oldman), and new District Attorney Harvey Dent (Eckhart), who have been successfully rounding up the criminals that plague Gotham City, until a mysterious and sadistic criminal mastermind known only as The Joker (the late Heath Ledger) appears in Gotham, creating a new wave of chaos. Batman's struggle against the Joker becomes deeply personal, forcing him to confront everything he believes. (Stacey Pendry)

Picture:
Picture quality is superb on this 1080p VC-1 transfer. The opening and closing scenes are framed in a 1.78:1 aspect ratio, as are 20-some sequences referenced in the credits as IMAX₮ sequences. The majority of the picture is framed at 2.40:1. This is distracting, as one must adjust for variable frame composition during viewing. Otherwise, the presentation is pristine with excellent color fidelity, deep pure blacks, and exemplary shadow detail. Colors are fully saturated. The picture is amazingly noise free and artifact free, though the slightest edge enhancement can be detected. The combination of high contrast and deep blacks creates a wonderful sense of three-dimensionality throughout. Along with the high resolution, the picture is reference quality. (Gary Reber)

Sound:
The Dolby₮ TrueHD 5.1 soundtrack is reference quality and projects holosonic₮ envelopment that fully engages one in the experience. The directional surrounds are often extremely aggressive, and at times the sound level achieves maximum SPL level with system-threatening bass below 25 Hz. Surround envelopment can also be subtle, yet sustain finely resolved ambiance. Dialogue articulation is excellent and well integrated spatially with the visual settings. The rich symphonic orchestral music score is also well recorded, with excellent spatial soundstage spread and depth and exciting dynamics. Sound effects are nicely integrated and at times explosive, while Foley effects are always perfectly integrated. This is a superb soundtrack that is reference quality. (Gary Reber)

This Disc Contains The Following WSR-Rated Superb Qualities:
Subscribe Now!
WSR D-Box Motion Code™ Review

D-Box Motion Code™ Rating:
4.5

D-Box Motion Code™ Review:
Great special effects, terrific performances, and a spectacular soundtrack򢀦 all of this describes 򢀜The Dark Knight򢀝 to a tee. Yet, true to form, the talented motion control artists at D-Box are able to add another very important ingredient and make an already excellent film even better. The programmers worked over 203 hours to encode 򢀜The Dark Knight򢀝 with 27-₽ minutes of motion and 3,080 different motion events. There are camera flyovers that make use of more subtle movement, and then there are scenes like the opening bank heist. All of the gunshots are given an extra jolt, and when a bus crashes through the bank wall, the motion provides the correct amount of chaos. Later in the film, when the Bat mobile switches from 򢀜Loiter򢀝 to 򢀜Intimidate,򢀝 the motion effects are indeed intimidating. Batman򢀙s visit to Hong Kong delivers some realistic effects, from the flyover and the skyhook to the 򢀜extraction.򢀝 The fighting scenes are all handled with perfection, adding a kind of excitement that sound alone cannot convey. Transporting Dent to County is innocuous enough, until things begin to go awry. The chase is very exhilarating, with cars swerving and careening into oncoming traffic and the Bat mobile crashing and converting to the Bat-cycle. This is perhaps the highlight of the motion effects and is a perfect D-Box demo scene. When the Joker makes his 򢀜phone call,򢀝 the intelligent vibrations are appropriately jarring. The more subdued motion effect used for the sonar system is equally impressive. Considering the length of the film, clocking in at 152 minutes, it may seem as if the motion control artists missed opportunities. In actuality, there are many moments that are heavy with dialogue and scenes that just don򢀙t call on the motion seating. When needed, however, the motion is there. 򢀜The Dark Knight򢀝 is a perfect showcase for a D-Box system. (Chris White)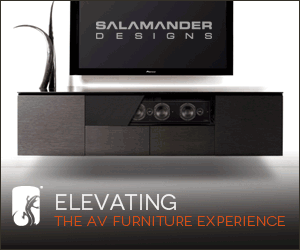 Subscribe to our RSS feed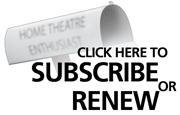 Reason #119 Why Readers Love Widescreen Review:
I read Widescreen Review because it keeps me up-to-date on the newest technology and gives insightful information regarding brands and types of product. I don't think I would feel comfortable making purchasing decisions without consulting Widescreen Review!
JF Coakley