Basic Information on new release titles is posted as soon as titles are announced. Once reviewed, additional data is added to the database.
WSR Detailed Disc Review
Killers




Genre:

Romantic Comedy

Reviewed In

Issue 153 (January 2011)

Of Widescreen Review®



Stars:


Ashton Kutcher, Katherine Heigl, Tom Selleck & Catherine O'Hara
WSR Review Scores

WSR Picture Rating:

5

DD Sound Rating:

NR

DD Plus Sound Rating:

NR

DD True HD Sound Rating:

NR

DTS Rating:

NR

DTS-HD Rating:

NR

DTS-HD Master Audio Rating:

4.5

PCM Audio Rating:

NR

WSR Score:

3

Download WSR Review
Reference Systems

Critics' Composite Score:

NA

Special Features
Special features include the behind-the-scenes featurette "Killer Chemistry" (HD 11:13), a gag reel (HD 01:34), six deleted scenes (HD 04:08), three alternate scenes (HD 05:43), three extended scenes (HD 04:40), BD Touch and Metamenu functionality, up-front previews, and D-BOX Motion Code.
Disc General Information

| | |
| --- | --- |
| (Studio/Distributor): | Lionsgate Home Entertainment |
| (Catalog Number): | 28898 |
| (MPAA Rating): | PG-13 |
| (Rating Reason): | Violent action, sexual material and language |
| (Retail Price): | $39.99 |
| (Disc Type): | Single Side, Dual Layer (BD-50) |
| (Widescreen Edition): | Yes |
| (Full Screen Edition): | No |
| (Running Time In Minutes): | 100 |
| (Color Type): | Color |
| (Chaptered/Scene Access): | Yes |
| (Closed Captioned): | Yes |
| (Regional Coding): | A |
| (Theatrical Year): | 2010 |
| (Theatrical Release): | Yes |
| (Direct-To-Video Release): | No |
| (Disc Release Date): | 09/07/10 |
| (THX® Digitally Mastered): | No |
WSR Narrative Review

Story Synopsis:
In "Killers," Jen Kornfeldt (Heigl) thinks she has found the man of her dreams. He's smart, charming, and funny. So what if he's also...an international spy? Fresh off of a sudden breakup, Kornfeldt reluctantly accompanies her parents on a vacation to the French Riviera. Unexpectedly, she stumbles upon the perfect guy, the too-good-to-be-true and incredibly handsome Spencer Aimes (Kutcher). After three wonderful years of romance, the newlyweds prepare to celebrate Aimes' 30th birthday. However, events are cut short when bullets start flying, and his little secret is revealed. Confronting the news head-on, Kornfeldt is determined to discover what else he might be hiding򢀔all the while trying to dodge bullets, keep up neighborly appearances, manage the in-law, and work out some "major" trust issues. (Gary Reber)

Picture:
The 1080p AVC picture is terrific, with a sharp and clean appearance. The color palette is naturally hued with earthy tones and slightly subdued primaries. Fleshtones appear a bit yellowish throughout. Contrast is excellent, with solid blacks and revealing shadow delineation. Resolution is quite good, with clearly defined object textures and facial features. While clean throughout, a slight grain is evident, which provides a cinematic texture. Overall, this is a pleasing picture with good resolution. (Gary Reber)

Sound:
The DTS-HD Master Audio򢄢 7.1-channel soundtrack positions the additional two channels to the back sides of the sweet spot listening position, not to the sides as they should be in the optimal setup recommended by Dolby₮ and DTS₮. Thus, unless you switch outputs, the normal surrounds in a 5.1-channel mix will be at the sides, not to the back sides. Unfortunately, the creative community, the studios, and the equipment manufacturers, have not dictated a spatial loudspeaker setup standard. Our preferred 7.1-channel setup is a perfect circle, with each full-range loudspeaker location equidistant from the sweet spot and equidistant from each other along the perimeter of the 360-degree circle. In this arrangement, the added mid-left and mid-right surrounds convey added surround envelopment and dimensionality. Unfortunately, some 7.1-channel soundtracks are produced with the added channels not at the sides but behind the sweet spot listening position, which then creates positioning problems for normal 5.1-channel presentations, with the surround loudspeakers located to the back sides of the prime listening position, including for surround music reproduction. Still the added channels do provide an enhanced holosonic₮ presence, when the music and effects are prominent. There are plenty of aggressive sound effects that are panned and directioinalized during action scenes. Dialogue is, unfortunately, extremely forward sounding and is lacking spatial integration throughout. The music is well recorded, with a wide and deep soundstage that expands widely into the surrounds. Bass extension is, at times, punctuated with strong, powerful .1 LFE sound effects. This is enhanced with effective D-BOX motion jolts and movement, as well as effective vibrations. The gunshots are jolting and well produced, with an aggressive surround presence. Overall, this is a nicely effective soundtrack, except for the "produced"-sounding dialogue, which never connects properly with the scenes. (Gary Reber)

This Disc Contains The Following WSR-Rated Superb Qualities:
Subscribe Now!
WSR D-Box Motion Code™ Review

D-Box Motion Code™ Rating:
4

D-Box Motion Code™ Review:
D-BOX Motion Code enhancements are impressively effective during action scenes with plenty of jolts, movement, and vibrations, which enhance the movie experience. Gunshots are intensified with articulate jolts. Some scenes enhance the sense of floating as well. This is a well-executed D-BOX experience especially, as noted, during the action sequences. (Gary Reber)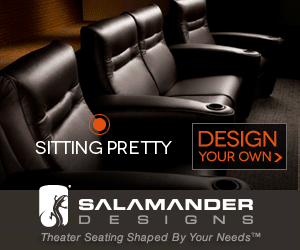 Subscribe to our RSS feed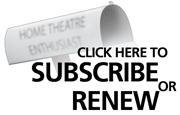 Reason #108 Why Readers Love Widescreen Review:
I have been reading WSR for about two years now and especially enjoy the product review section. Although the other articles and review sections are generally well-written and informative, the product reviews give me an unbiased look at new technologies and products. Being in the home theatre design field, I look at many different sources for product ups and downs and find your magazine a very valuable resource in this area. Keep up the great work!!
Jeff Santerre