January 9, 2006

EchoStar's DISH Network Launches Nation's Largest HD Lineup By Adding Expanded Suite Of Rainbow Media's VOOM HD Networks




Recent News

October 18, 2014
October 17, 2014
October 17, 2014
October 17, 2014
October 17, 2014
October 16, 2014
October 15, 2014
October 13, 2014
October 7, 2014


EchoStar Communications Corporation and Rainbow Media Holdings announced that EchoStar's DISH Network will expand its offering of Rainbow's VOOM HD Networks from 10 to 15 channels. VOOM HD Networks provides the largest and most diverse suite of HD content in the nation, and today's announcement reinforces its commitment to fill the HD content void and to create programming that maximizes the HD experience.

As part of its strategy to be the nation's leading provider of HD programming, DISH Network started distributing an initial lineup of 10 VOOM HD Networks in the spring of 2005. Telecast in 1080i with Dolby 5.1 surround sound, VOOM HD Networks provide 24 hours of high-definition, commercial-free, programming. The new suite of 15 VOOM HD channels will be available to consumers on February 1, as part of DISH Network's new DishHD package, which was also introduced today at the 2006 International Consumer Electronics Show.

"VOOM's programming is created to maximize HD technology and to bring the power, clarity and beauty of this medium to the broadest possible audience. VOOM has become the premier television destination for high definition," said Greg Moyer, general manager of VOOM HD Networks. Mr. Moyer added, "Growth is an important marker for any brand's success. We are excited and encouraged by the support we are receiving, and look forward to continuing to infuse lively and original programming into the HD spectrum."

"With the addition of these five new VOOM HD channels, DISH Network solidifies its leadership position by providing the most HD channels and more hours of HD content than any other provider," said Eric Sahl, senior vice president of Programming at DISH Network. "Millions of households are expected to purchase HDTV sets in 2006: With nearly twice as many channels as most other providers, DishHD will be the package of choice for new HD viewers."

Following is the VOOM HD Networks channel line-up that will be available on EchoStar's DISH Network:


- HDNews – The only HD source for 24/7 news, sports and weather.
- Equator HD – The most extraordinary places and people on the planet.
- Gallery HD -- Stunning imagery and stories from the frontline of the art world.
- Rush HD – Life on the edge with adrenaline junkies of adventure sports.
- Rave HD – Live music as a whole new experience in HD and 5.1 surround sound.
- Ultra HD – The hottest fashion, the coolest styles and insight into the 'luxe life from around the world.
- Animania HD – Eye-popping HD animation from the groundbreaking to the classic.
- Monsters HD – The masters of movie horror in terrifying HD clarity.

- Gameplay HD – Enter the virtual worlds of video gaming for the first time in HD.
- Treasure HD -- Live auctions and original series for and about people with a passion for collecting.
- Worldsport HD -- Live sports coverage from premier arenas around the globe.
- Family Room HD -- Movies and entertainment for the whole family.
- Film Fest HD -- A non-stop film festival for movie fans, remastered in HD.
- Kung Fu HD -- All martial arts action, all the time.
- World Cinema HD -- Award-winning and top-performing movies without borders.

Since its launch in early 2005, VOOM has gone on to produce compelling original HD content for a wide variety of consumer interests including: the largest collection of HD horror films; a live auction of one-of-a-kind memorabilia; animation for kids of all ages and action-adventure sporting events.

The five newly added VOOM HD channels will be available to DISH Network customers who obtain DISH Network's new MPEG4 satellite receivers capable of receiving the new HD channels. Customers with MPEG2 equipment can view the current 10 VOOM HD channels as well as other previously offered DISH Network HD programming.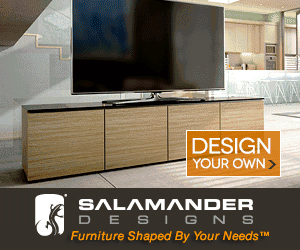 Subscribe to our RSS feed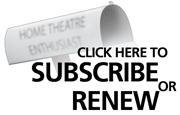 Reason #76 Why Readers Love Widescreen Review:
Our family has made a significant investment in a dedicated home theatre. Upon reading nearly every other home theatre publication, I have found that Widescreen Review has consistently provided us accurate reviews, and as such have built a substantial library of movies and equipment, which we consider "Keepers." I find the equipment reviews, especially the Subwoofer Special Edition, to be right on the money and a must-have. The video equipment reviews (we are currently in the market for a front projector) are educationally based as well as comparatively based, so I learn about equipment in general while I can compare specifications. I thank you for a publication well worth the cover price issue after issue.
Paul Capozio