December 20, 2007

Audio Design Associates Introduces Suite 8200 Multi-Room Receiver



[The following is a release From Audio Design Associates]




Recent News

February 24, 2015
February 24, 2015
February 23, 2015
February 20, 2015
February 20, 2015
February 19, 2015
February 19, 2015
February 18, 2015
February 18, 2015


Audio Design Associates (ADA), the recognized brand of excellence in high-end custom installed electronics and a founding member of the CEDIA organization, announces that it will premiere the Suite 8200, the company's most powerful and flexible multi-room receiver to date. The first showing of Suite 8200 will be at ICES 2008, Las Vegas, NV, at the Sands Expo and Convention Center/The Venetian, in High Performance Audio Room #30-121.

Suite 8200 improves upon ADA's popular-selling Suite 8100 multi-room receiver. Suite 8200 is an 8-source, 8-zone (16 channel) single chassis pre-amp / amplifier that incorporates a new, powerful and rich sounding class A/B amplifier that outputs 25 watts per channel and is stable down to 4 ohms, where Suite 8100 utilized a class D amplifier.

Suite 8200 ships with dual premium tuners built-in, where Suite 8100 had one. The installer designates to the factory which two tuners will be integrated into each Suite 8200 ordered. Tuner options include XM Satellite, Sirius Satellite Radio or HD Digital AM/FM/WX Radio. (Either two of the same or mix and match.)

Advancing upon Suite 8100's connectivity capabilities, Suite 8200 incorporates pre-amplified (variable) line-level audio outputs for each zone, with zones 1 and 2 incorporating variable line-level subwoofer outputs. The improved sound and connectivity to additional amplifiers and subwoofers were made without increasing the original 2U rack height.

"Suite 8200, simply put, is a custom integrator's dream. It packs all the richness of sound, power, connectivity and feature sets of more expensive and space consuming multi-component audio systems. And it is backed by ADA30, our revolutionary new 30-year reasonable warranty," says Richard Stoerger, ADA's VP and COO.

"The flexibility of Suite 8200 enables it to function as a 'his and hers' multi-room system; simply add in two ADA iBase's (with eXtender Kits), and now you have a system with 'his and hers' radio tuners and iPods," adds Stoerger.

For advanced whole house remote control, Suite 8200 is compatible with the company's entire family of keypads, touch screens and IR remotes. It also can be controlled by AMX, Crestron, Lifeware, Colorado Vnet, Savant, Vantage etc. and IR remotes like Universal, RTI and Pronto.
Increasing upon the functionality of Suite 8100, Suite 8200 has a paging input that can be easily integrated with a door bell or for a more advanced option, interfaced with ADA's Phone Suite for room-to-room paging using a one, two or multi-line phone system. Two Suite 8200's can also be linked together.

Suite 8200 has an MSRP of $4,999. Units are shipping now.








Subscribe to our RSS feed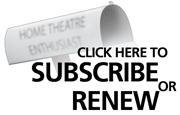 Reason #49 Why Readers Love Widescreen Review:
Reading Widescreen Review for the past four years has been a liberating experience for me. Issue after issue you continue to write the most intelligent, full depth, and logical reviews and you do not pull any punches. I've bought many of my home theatre items after reading about them in WSR, and I must say they perform exactly as you have written in your reviews. I'll be a customer for a long, long time. Thanks for a great magazine.
David Marks