March 15, 2008

More Than 100 Million Households To Pay For HDTV Service By 2012, Study Predicts



[The following is a release from Pike & Fischer]




Recent News

September 2, 2014
August 28, 2014
August 27, 2014
August 26, 2014
August 25, 2014
August 19, 2014
August 14, 2014
August 13, 2014
August 13, 2014


More than 47 million American households will be paying for some type of high-definition TV service by the end of 2008, according to a new Pike & Fischer forecast.

That total represents an increase of 17 million homes compared to the end of 2007, according to the new P&F report, "HDTV Service: Market Forecast for Multichannel Video Providers." The Silver Spring, Md.-based market research house also predicts that by the end of 2012, up to 103 million households will be paying their multichannel video provider for some form of HD service or rental equipment.

Although the broadcast networks now air their programs in HD for free, cable operators, satellite TV providers and telephone companies are striving to make money off the public's appetite for high-definition video by offering HD premium channels, leasing HD-ready equipment, and selling on-demand movies and TV shows in HD format, the report says.

The strong demand for high-definition video will generate up to $2.6 billion in annual revenue for the multichannel video providers by the end of 2012, according to the forecast.

The recent decline in consumer spending could slow the adoption of these HD services, cautions Scott Sleek, Director of Pike & Fischer's Broadband Advisory Services and principal author of the report. But the nation's economic slump could have the opposite effect, he adds.

"People may decide they'll save more by investing in home entertainment," he says. "That way they can microwave some popcorn and order an HD movie on demand instead of spending $50 or more to go out for dinner and movie."







Subscribe to our RSS feed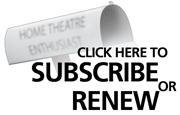 Reason #48 Why Readers Love Widescreen Review:
In addition to Widescreen Review, I subscribe to several audio/video publications, such as Sound And Vision, Stereophile, Stereophile Guide To Home Theater, Audio Video Interiors, and peruse through the myriad of British audio video publications when I go to Borders, Barnes & Nobles, or Tower Records. I must acknowledge that Widescreen Review is one of the better ones because it is more like a trade publication than a magazine full of advertisements. Moreover, Widescreen Review was one of the first publications to delve into DVI and more importantly, HMDI, which I deem important because it can make a lot of the current products out there obsolete. Put simply, Widescreen Review is The New York Times of audio/video publication. In other words, if you want real news, you read The New York Times. To stay on top of what's happening in the audio/video industry, you read Widescreen Review. Enough said.
Dick Lew