March 19, 2008

Monster Now Shipping Its Uniquely Styled Home Theater StreamLine(TM) 100 Speakers

Compact Home Theater Speaker System Offers Superior Performance and Style With Interchangeable Side Panels in Five Different Colors to Match Any Decor

[The following is a release from Monster]


Recent News

March 25, 2015
March 24, 2015
March 20, 2015
March 18, 2015
March 18, 2015
March 18, 2015
March 17, 2015
March 17, 2015
March 12, 2015


Monster, a leading manufacturer of advanced consumer electronics components and accessories, today announced that it has begun shipping its Monster® StreamLine™ 100 Speakers, a compact and stylish new concept in home theater surround sound that's designed to "look as good as it sounds."

Monster StreamLine 100 Speakers are a bold new approach to home theater speaker design - a compact system that maintains excellent performance while complementing the look of any room in the house without dominating the decor. The speakers' unique design concept features interchangeable side panels with five color options, providing the ideal solution for style-conscious customers who want to create an elegant look in any room. The interchangeable panels easily snap on and off and provide a custom look to match any decor.

In addition to their unique cosmetics, Monster StreamLine 100 Speakers provide powerful real-world acoustic performance that will satisfy even discriminating listeners. The imaging, soundstage, and dynamics are impressive when compared to other speaker systems in this price range. In addition, the StreamLine Subwoofer is THX(R) certified for an ultra-precise low-end response, one of the key elements of superior home theater acoustics.

The Ideal Home Theater Audio Solution To Fit Any Lifestyle.

Monster StreamLine 100 Speakers pack all this leading-edge performance into slim, elegant cabinet designs that won't cramp smaller rooms. Line array technology allows for slim cabinets while maintaining a wide sound stage with precise accuracy.

The Monster StreamLine Speaker System offers excellent performance and design flexibility, at a tempting price.

Monster Home Theater StreamLine Tower 100 Speakers retail for $600 per pair.

Monster Home Theater StreamLine Center 100 Speaker retails for $300 each.

Monster Home Theater StreamLine THX Subwoofer 100 retails for $500 each.

Monster Home Theater StreamLine Tower and Center Side Panel Kits retail for $300. Kits include eight panels for towers and two for centers and come in a choice of cherry, silver, maple, red or yellow.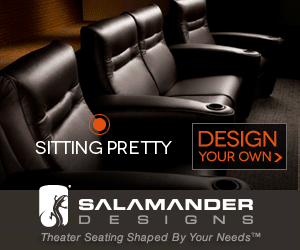 Subscribe to our RSS feed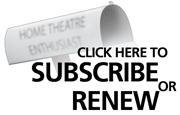 Reason #76 Why Readers Love Widescreen Review:
Our family has made a significant investment in a dedicated home theatre. Upon reading nearly every other home theatre publication, I have found that Widescreen Review has consistently provided us accurate reviews, and as such have built a substantial library of movies and equipment, which we consider "Keepers." I find the equipment reviews, especially the Subwoofer Special Edition, to be right on the money and a must-have. The video equipment reviews (we are currently in the market for a front projector) are educationally based as well as comparatively based, so I learn about equipment in general while I can compare specifications. I thank you for a publication well worth the cover price issue after issue.
Paul Capozio