March 24, 2008

JBL, Inc. Now Shipping Its JBLŽ ES Series Loudspeakers, Which Feature Elegant Styling And Exceptional Performance



[The following is a release from JBL]




Recent News

April 23, 2015
April 22, 2015
April 22, 2015
April 22, 2015
April 22, 2015
April 22, 2015
April 20, 2015
April 20, 2015
April 20, 2015


JBL, Inc. today announced it is now shipping its ES Series loudspeakers, a complete lineup of home theater and stereo models that combines upgraded performance with elegant design. JBL(R) ES Series loudspeakers utilize technologies employed in the company's professional models to deliver exceptional sound quality.

The JBL ES Series includes a wall-mount/bookshelf monitor (ES10); two bookshelf loudspeakers (ES20, ES30); two floorstanding speakers (ES80, ES90); a center channel speaker (ES25C); and two subwoofers (ES150P and ES250P). Suggested retail prices range from $329 to $1,198 per pair.

ES Series loudspeakers feature distinctive new styling, with tapered enclosures, and a front baffle that curves into the top surface. The ES Series is available in black with a charcoal center section, and cherry with a charcoal center.

ES Series loudspeakers incorporate advanced JBL technologies, including a titanium-laminate tweeter and an ultrahigh-frequency transducer with extended frequency response to 40kHz, to deliver smooth and detailed high-frequency reproduction with a natural quality of spaciousness over a wide listening area.

ES Series midrange drivers and woofers feature cones made from JBL PolyPlas(TM) material, which provides a smooth frequency response with faster transients, and allows higher playback levels without distortion. All models incorporate a host of additional enhancements. The ES Series offers installation options to accommodate any home theater or music system.







Subscribe to our RSS feed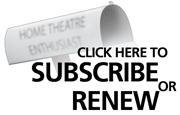 Reason #25 Why Readers Love Widescreen Review:
I want to see product reviews of home theatre equipment that non-millionaires can afford to own. Reading articles about $50,000 home theatre setups is admittedly rather fun but, in practical terms, the info is really useless to me. While Darling Wife and I make a decent living, there's no way we can spend that kind of money on a home theatre. What I also really like and want to see: Practical advice articles that help people who are at least minimally technically competent to assess their needs and assemble a home theatre. That is, a periodic (yearly? twice yearly?) in-depth look at points to consider and equipment to buy to assemble a good high definition home theatre. Ideally, it would examine several total package price points. If you're willing to spend $10,000, here's what we recommend in terms of equipment and how to connect/install them. If your budget is smaller, here's what we recommend. If your budget is somewhat larger than $10,000, do this instead. Yes, I know you have your reference systems section each month, but an explanatory article would be nice, too. Finally, keep us up-to-date on the development of high definition DVDs and DVD players. This is what I'd like to see.
Kevin A. Gerfen