May 1, 2008

Goldmund Brings The Epilogue Speaker System To The Goldmund Media Room

Ultimate Audiophile Speaker Now Available for In-Wall Media Room Installations

[The following is a release from Goldmund]


Recent News

October 18, 2014
October 17, 2014
October 17, 2014
October 17, 2014
October 17, 2014
October 16, 2014
October 15, 2014
October 13, 2014
October 7, 2014


Goldmund, makers of the world's most extravagant and technologically advanced systems for audio-video purists, have created a new version of their Epilogue flagship speaker system that is being built specifically for use in the Goldmund Media Room.

Introduced in 1995, the original Epilogue Speaker System met the demands of Goldmund's most discerning audiophile customers seeking a very high-end home theater system. Featuring the same subtle sonic quality found in its predecessor - the Apologue, while also reproducing realistic theater levels, the Goldmund Epilogue has become an elite speaker system in the audiophile marketplace.

Installed throughout the world in two-channel and multi-channel settings, the Epilogue system was not included in the Goldmund Media Room, which debuted in 2007, because of size constraints involved in wall mounting or concealed in-wall speakers. The latest creation from the Geneva-based company now brings the illustrious qualities of the Epilogue Speaker System matched with the acoustic perfection found inside the walls of the Goldmund Media Room.

"When we first introduced the Goldmund Media Room, many of our loyal customers were skeptical about moving away from their beloved freestanding Epilogue system. We've addressed their concerns by bringing the crown jewel of our product line inside the walls of the Goldmund Media Room," said Michel Reverchon, president of Goldmund. "Many have experienced the Goldmund Media Room prior to the addition of the Epilogue system and have called it 'perfection,' today we have taken perfection to a brand new level."

The price of the Goldmund Epilogue Speaker System for use in the Goldmund Media Room is comparable to its freestanding counterpart, starting at $300,000 per stereo pair. Goldmund products range in price from $16,900 for the recently released Eidos 20BD blu-ray player up to $550,000, the entry price for the Goldmund Media Room.

Additional information can be accessed by visiting the Goldmund website at www.goldmund.com. The Goldmund Media Room in Los Angeles is available for select demonstrations by appointment.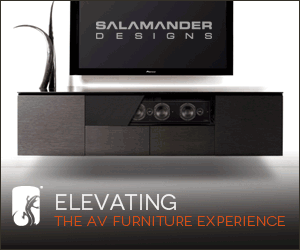 Subscribe to our RSS feed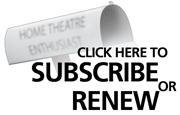 Reason #9 Why Readers Love Widescreen Review:
WSR is a terrific resource for anyone interested in keeping up with the state of the art in home theatre. It's the only publication I know of that dedicates not only significant space to discussing upcoming trends, but considerable time and effort is spent pushing those trends towards realization. The home theatre cruise, Joe Kane's technical discussions, D-Theater, and in the latest issue, the movement towards establishing a surround sound recording standard are just a few examples of WSR's leadership. Greg Roger's review of the Sharp XV-Z12000 made me want to run out and buy it, but last year I bought the Sony HS10 projector (sight unseen) purely on the strength of his thorough, detailed review. I have been very happy with my purchase. It is impossible for me to evaluate all of the pros and cons of a piece of equipment by looking at it in a home theatre shop. It just takes too long to become familiar with operational quirks and to judge how things might be different in my home than in the retail environment. I have bought other expensive equipment based largely on your reviews. WSR is to be commended for dedicating the space in its pages to such thorough reporting. Lastly, your Web Site is topnotch. I use it regularly to keep up with industry news and to look up past equipment reviews. It serves as my filing cabinet for a wealth of HT information. Keep up the great work.
John VanNest