May 21, 2008

Denon Expands Its Blu-ray Lineup With New Model DVD-1800BD Player

New More Affordable Player Brings Denon-Quality Blu-ray Performance Within Reach of More Consumers; Features HDMI 1.3a with Deep Color Support

[The following is a release from Denon]


Recent News

November 20, 2014
November 20, 2014
November 20, 2014
November 20, 2014
November 16, 2014
November 13, 2014
November 13, 2014
November 12, 2014
November 12, 2014


Denon Electronics, one of the world's premier manufacturers of high-quality home entertainment components, today announced the introduction of the third member in its highly successful and critically acclaimed Blu-ray DVD family, the model DVD-1800BD Profile 1 version 1.1 Blu-ray Disc Player (SRP: $749). Offering consumers extraordinary video quality and audio excellence at a more affordable price point, the DVD-1800BD features HDMI 1.3a with Deep Color and Bonus View support, full bitstream output of Dolby and DTS-HD audio formats, as well as 1080p scaling from SD DVDs and 2-channel analog audio output. The Denon DVD-1800BD is scheduled for availability in October 2008.

Like Denon's two recently introduced Blu-ray products, the DVD-3800BDCI Blu-ray Disc Player ($1,999) and the DVD-2500BTCI (SRP: $1,199) Blu-ray Disc Transport, the DVD-1800BD allows owners of advanced A/V receivers to add Blu-ray capability to their system and enjoy high definition video. The DVD-1800BD will natively output an HD audio bit-stream to a connected receiver via HDMI. Once this signal is accepted in the receiver, it can then be decoded into its native format including Dolby Digital Plus, Dolby TrueHD and DTS HD Master Audio. For those listeners who want to use the DVD-1800BD as a step-up CD player, this unit features a dedicated 2-channel analog output, equipped with high-class Burr-Brown D/A convertors and superior analog components to ensure the high level of sound quality for which Denon is renowned.

In keeping with the guidelines mandated by the Blu-ray Association for BD-ROM Profile 1 version 1.1 players, the Denon Model DVD-1800BD incorporates a secondary audio and video decoder. This allows for simultaneous playback of a secondary audio and video track which may be used for interactive audio and commentary and for picture-in-picture capability (respectively). Additional information (subtitles, audio streams, camera angles, trailers, games, etc.) can be downloaded from the Internet via computer and stored on a SD card that the player will accept. This content can be played with the original content of Blu-ray Discs.







Subscribe to our RSS feed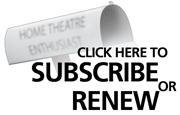 Reason #34 Why Readers Love Widescreen Review:
I was always told to seek the superlative, and where home entertainment is concerned, WSR makes sure that my reach always exceeds my grasp. Fortunately, in this case, it's a good thing. I can count on WSR to always go beyond what every other magazine in the industry can provide. It has inspired me to explore the concepts, both technical and subjective, to the extent that I even feel smarter about home entertainment technology. Hardware and software are both dealt with in an informative and engaging way, so the value of the magazine surpasses its modest price. WSR has been a great inspiration for my wishes and dreams. I wish I could afford the ultra wares I see covered in the magazine. Nevertheless, I am wiser because I have gained a sense of judgment through reading WSR. (I must admit to having a bit of common sense, though, since I have been using Monster Cable products for over 10 years!) I hope WSR will continue to ignite the interest in its audience as it has up to now.
Name Unknown