June 8, 2008

McIntosh Laboratory Announces Availability Of Five New Home Entertainment Products



[The following is a release from McIntosh Laboratories]




Recent News

December 19, 2014
December 17, 2014
December 17, 2014
December 15, 2014
December 11, 2014
December 5, 2014
December 5, 2014
December 5, 2014
December 4, 2014


McIntosh Laboratory, a world leader in high-quality home entertainment systems for nearly 60 years, recently announced that five of its state-of-the-art components, including three powerful amplifiers, a leading-edge center-channel loudspeaker and an SACD/CD player, are all now available at McIntosh® authorized dealers.

Amplifiers Designed for Unmatched Performance:
The 300-watt MC2301 Vaccuum Tube Power Amplifier (MSRP: $11,000) is McIntosh's first fully-balanced tube amplifier, providing impeccable audio performance. The unit's balanced inputs provide a low-noise input path and can be selected by a rear panel switch. Gold plated 5-way binding posts are available for 2, 4, and 8-ohm speakers, as well as one extra common pair of balanced inputs for use with McIntosh's Reference Series C1000 preamp. With a signal-to-noise ratio of better than -117 dB the MC2301 offers the highest performance of any McIntosh tube amplifier.

Designed to deliver a continuous 250 watts per channel, the MA7000 Integrated Amplifier (MSRP: $8,000) is the most powerful integrated amplifier McIntosh has ever offered. The MA7000 supports seven inputs, including two balanced and four single-ended inputs as well as a low noise moving magnet phono input. Two sets of switched balanced preamplifier outputs are provided for easy system expansion. A McIntosh designed 5-band equalizer guarantees the range of adjustment necessary to extract the maximum sound quality from a wide variety of audio sources and software.

The MA6600 Integrated Amplifier (MSRP: $6,000) is uniquely designed to deliver unprecedented flexibility and performance in a wide variety of home entertainment system configurations. With a potent 200 Watt per channel autoformer-coupled amplifier, McIntosh spared no expense in creating the MA6600, which combines no-compromise build materials with many of today's most advanced sonic technologies and engineering to create a unique, Integrated Amplifier with a host of leading-edge performance and convenience features. The addition of an optional AM/FM/HD Radio tuner module enables the MA6600 to become the first stereo receiver offered by McIntosh in over 15 years.

XCS1K: A No-Compromise Audio Experience
The latest addition to its acclaimed McIntosh XRT Series of luxury-class loudspeakers, the XCS1K Center Channel Loudspeaker (MSRP: $17,500) contains a full-range line array based system designed to match the company's enormously popular XRT1K floor-standing loudspeaker. The XCS1K achieves its stunning acoustical performance characteristics by combining today's most advanced loudspeaker technologies with ahead-of-the-curve acoustical engineering concepts. Two 10-inch LD/HP woofers are housed in a custom extruded aluminum, asymmetrical bass enclosure. The arc-array is suspended in front, housing 32 2-inch inverted titanium dome midrange drivers and twenty ¾-inch titanium dome tweeter drivers. The multiple drivers greatly enhance power handling and lower distortion. The extremely low moving-mass of the tweeter elements extends system response to 45 kHz. The design exhibits wide bandwidth and is phase coherent within the audio band for a non-fatiguing sound, a McIntosh hallmark.

SACD Player to Meet the Demands of the Most Discriminating Audiophiles
Utilizing a multi-bit PCM/DSD D-to-A Converter, the MCD301 SACD/CD Player (MSRP: $4,500) yields 24 Bit PCM resolution with a wide dynamic range and extremely low distortion, reproducing all the nuance of musical performance at any level and with extreme precision. For total user flexibility and convenience, the MCD301 may be used three ways. First as a normal two-channel CD player using the fixed balanced or unbalanced outputs. Secondly the MCD301 can be used in a disc-only system to directly drive any power amp using the variable balanced and unbalanced outputs. Volume may be adjusted from the handheld remote or the front panel volume control. Thirdly, the MCD301 may be used to drive headphones in a standalone personal system. The front panel mute switch mutes the rear panel outputs when headphone use only is desired.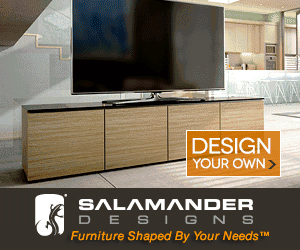 Subscribe to our RSS feed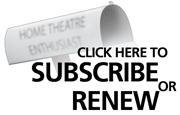 Reason #83 Why Readers Love Widescreen Review:
I read Widescreen Review because it's simply one of the most intelligent sources of A/V information, both in terms of format and content. Product reviews are honest and thorough. I humbly admit that for the last two years I have been borrowing my brother-in-laws' copies of WSR when he was finished reading them. I am now happy to report that as of last week, I am an official subscriber of WSR and will be for many years to come. I have not been in the Custom A/V industry very long (two years), but I have spent the last 12 years in the computer and networking world, and I know thoughtful, well-sourced copy when I read it. I have come to trust WSR's reviews as a benchmark from which I form many opinions. The hard work of each reviewer makes each of us who reads it a much more credible source of information for our clients. A mentor of mine once told me that no one person has all the answers. The trick is knowing who you should listen to, and WSR has proved itself worthy month after month.
Bryant Moore