June 25, 2008

Elite Screens, Inc. Announces Kestral—Its Innovative Portable Electric Screen



[The following is a release from Elite Screens]




Recent News

August 27, 2014
August 26, 2014
August 25, 2014
August 19, 2014
August 14, 2014
August 13, 2014
August 13, 2014
August 12, 2014
August 12, 2014


Elite Screens, Inc. an innovative company that specializes in affordable high quality projector screens, today announced the Kestrel projection screen. It is a premium grade mobile electric floor-rising screen designed for executive presentations, formal functions or residential home theater rooms that require a flexible alternative to fixed wall or ceiling-mounted installations.

"Our new Kestrel screen fuses high tech convenience with superior quality materials," said David Rodgers, marketing manager, Elite Screens, Inc. "Its precise mechanism makes it rise with a smooth and flawless action with the touch of a button."

Elite's Kestrel measures 84 or 100 inches diagonally in either a 4:3 or 16:9 aspect ratio and has a stylish piano gloss finish that combines its aesthetic appeal with the functional portability of its plug and play design. It's available with Elite's MaxWhite FG fiberglass-backed material to provide a flat and easily visible surface in 1.1 Gain.

The screen's mechanized cross-rising apparatus is driven by a tubular motor that has a superior weight tolerance and operational lifespan over synchronized motors used in other models. Its variable height settings accommodate virtually any presentation environment.

Elite's Kestrel provides a wide variety of control options for increase flexibility. Each unit has a built in 5-12V trigger for drop/rise synchronization with the projector's power cycle along with Infrared and Radio Frequency (RF) receivers for a complete wireless operational package. Both an RF remote and a ZR800D IR universal learning remote are included. The RF remote provides a superior range of wireless operation without the need for line-of-sight contact. The ZR800D IR universal learning remote allows simultaneous screen operation with up to eight different media devices so users can easily and quickly manipulate video and media sources.

Pricing, Availability, Warranty
Elite Screens' Kestral is priced at $2199 and will be available in June through retail, internet, professional AV and systems integrator channel. It comes with Elite's two-year manufacturer's limited warranty, which is twice the industry standard.








Subscribe to our RSS feed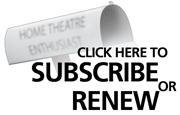 Reason #85 Why Readers Love Widescreen Review:
Well, I've always been attracted by the world of pleasures that we can get from good hi-fi systems and more recently by good home theatre equipments. I was only 20 years old (23 years ago) when I bought a pair of Kef 105.4 reference series loudspeakers at $2,000. At that time, I earned only $6,000 a year, and my mother thought I was really crazy to spend so much money. But I have never regretted it and it is the same for all I have bought since then (over $25,000...). More recently, I have discovered your Web Site on the net, and I must tell you that I was very impressed by this incredible DVD search engine. It was not long before I subscribed to your magazine. I have sent your Web Site address to many friends who share my love for home theatre. I'm happy to tell you that they are also very enthusiastic about it. There is nothing that comes close to it. I'm also impressed by the quality of the reviews; in particular the very detailed commentary about sound and picture. I store on my Pocket PC the Picture, DD, DTS and critics rating for all my DVDs (close to 300...). Now, I'm hooked on your magazine (as well as the Web Site), and I can say that I read from cover to cover. I was also impressed with the way you push forward HDTV and in particular, D-VHS. I MUST TELL YOU THAT WE NEED YOU AS MUCH AS YOU NEED US... I appreciate that you are not just doing your job. I can tell that you are really passionate about it, as I am. In fact, if I lived near you, I would love to be part of your team. So, if I had to summarize my thought about why I read Widescreen Review, I would say first that with your magazine and Web Site, I'm much better informed, so I can make smarter equipment and software purchases for my hard-earned money and second but not least, I feel that I am in a modest way, helping you do the work that is important to push forward (faster and better) the wonderful world of home theatre. Keep up the good work. I am a fan from Longueuil (near Montreal.
Michel Lamarche