July 21, 2008

Cinépolis And RealD 3D Announce Exclusive Digital 3D Partnership

500 new RealD 3D screens coming to leading circuit; huge expansion of 3D cinema into Mexico, Central America, and South America

[The following is a release from Cinépolis and RealD]


Recent News

August 27, 2014
August 26, 2014
August 25, 2014
August 19, 2014
August 14, 2014
August 13, 2014
August 13, 2014
August 12, 2014
August 12, 2014


Morelia and Santa Fé, Mexico- based Cinépolis, Inc, the world's fifth largest cinema exhibitor, and RealD 3D, the global leader in 3D, announced today that Cinépolis will add 500 RealD 3D screens to its circuit.

The rollout of these 500 RealD 3D screens has already begun with six new screens installed for the release of Journey to the Center of the Earth, and will continue through 2010. The partnership makes RealD the exclusive choice of Cinépolis for digital 3D and creates a strong platform in the market for the upcoming slate of over thirty major studio 3D releases in 2009 and 2010.

"We are in the midst of a defining moment in movie going history," said Jeffrey Katzenberg, CEO of DreamWorks Animation. "This massive expansion of screens into the critical markets of Central and South America is a giant leap forward for Cinépolis, RealD and all content creators who are committed to the worldwide deployment of digital 3D."

"We are thrilled with the support and commitment Cinepolis has made towards 3D entertainment and RealD," said Anthony Marcoly, President, Walt Disney Studios Motion Pictures International. "We look forward to bringing our next Disney Digital 3D animated release, BOLT, to their cinemas this Christmas season as well as many others during the coming years."

"Cinépolis confirms its commitment to innovation and client service by placing its confidence on 3D technology. As a company that has always been at the forefront in market innovation and new products and services, Cinépolis is proud to join forces with RealD. We believe this cutting-edge technology represents the future of the exhibition business and with this deal Cinépolis moves ahead in the very competitive Latin American market," said Miguel Mier, COO of Cinépolis

"We are thrilled to be the choice of Cinépolis for premium digital 3D," said Michael Lewis, chairman and CEO of RealD. "This partnership marks an expansion of the RealD 3D platform into one of the world's strongest movie markets, as 3D continues to be a truly international phenomenon."

RealD's next-generation 3D experience has garnered over 90% of the global market for 3D cinema, with RealD 3D theaters in 25 countries with over 70 exhibition partners. Cinépolis, with theaters in Mexico, Guatemala, Costa Rica, Panama, El Salvador, and Colombia, welcomed 91 million moviegoers through the doors of its theaters in 2007.







Subscribe to our RSS feed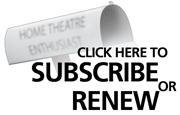 Reason #9 Why Readers Love Widescreen Review:
WSR is a terrific resource for anyone interested in keeping up with the state of the art in home theatre. It's the only publication I know of that dedicates not only significant space to discussing upcoming trends, but considerable time and effort is spent pushing those trends towards realization. The home theatre cruise, Joe Kane's technical discussions, D-Theater, and in the latest issue, the movement towards establishing a surround sound recording standard are just a few examples of WSR's leadership. Greg Roger's review of the Sharp XV-Z12000 made me want to run out and buy it, but last year I bought the Sony HS10 projector (sight unseen) purely on the strength of his thorough, detailed review. I have been very happy with my purchase. It is impossible for me to evaluate all of the pros and cons of a piece of equipment by looking at it in a home theatre shop. It just takes too long to become familiar with operational quirks and to judge how things might be different in my home than in the retail environment. I have bought other expensive equipment based largely on your reviews. WSR is to be commended for dedicating the space in its pages to such thorough reporting. Lastly, your Web Site is topnotch. I use it regularly to keep up with industry news and to look up past equipment reviews. It serves as my filing cabinet for a wealth of HT information. Keep up the great work.
John VanNest