July 22, 2008

SI Ships Reference Motorized Projector Screen In Time For 2008 CEDIA Expo

Setting the Standard for Quality and Value, the New, Ultra-Quiet, State-of-the-Art
Design Delivers Incredible, Vivid Images for Home Theater Applications

[The following is a release from SI Screens]


Recent News

July 24, 2014
July 23, 2014
July 22, 2014
July 22, 2014
July 22, 2014
July 22, 2014
July 22, 2014
July 22, 2014
July 22, 2014


SI (www.siscreens.com) is proud to announce that its new Reference Motorized projector screen will be shipping in time for the 2008 CEDIA Expo. SI will showcase the new, state-of-the-art screen during the show, which takes place in Denver from Sept. 4-7 at the Colorado Convention Center, booth 1056.

"SI's new Reference Motorized Series sets the standard for high-end electric projector screens," said Aaron Reilly, SI CTO. "This elegant new design includes all the amenities along with the new Black Diamond™ screen technology. Reference motorized encompasses the most cutting edge electronics and controls as standard features making it the elite screen solution for home theater and family room applications."

Another Reference Motorized Series benefit is that the chassis is flush mount. Up until now, the industry standard from other manufacturers has been selling a separate box to put the box in, which is both costly and impractical. With SI's new Reference Motorized Series, the customer/installer can either add flush mount plates at the bottom or add the sexy décor plate. Either way, pricing remains the same while eliminating the need for an extra box.

In addition, the Reference Motorized controls are external, giving installers the ultimate flexibility when installing high-end custom jobs. The controls can reside in the installation cabinet or rack, making integration a breeze.

Additional Reference Motorized Screen highlights include:
• Elegant curved décor case
• Ultra quiet motor (43 dB from 3 feet)
• All "Reference Series" screen materials
• "Super Flat" rigid horizontal screen tensioning system
• 24 inches of extra black standard with custom options

• Screen formats available in 2.35:1, 16:9, & 4:3
• Screen sizes available from 80 inches – 160 inches diagonal
• 12 Volt Trigger, Infra Red, and RF options
• Mounts to the wall, ceiling, or flush in-ceiling
• Lifetime replacement policy

Multimedia: www.siscreens.com/screens/reference-motorized.php

Additional Siscreens.com on-line product features and tutorials:
• Screen Calculator: http://www.siscreens.com/calculator/getstarted.php
• See the REAL VIDEO difference: http://www.siscreens.com
• Multimedia Gallery available at: http://www.siscreens.com/gallery.html

For more information on the Reference Motorized Screen Series and SI Screens, visit the web at www.siscreens.com or call 512-832-6939.








Subscribe to our RSS feed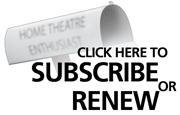 Reason #85 Why Readers Love Widescreen Review:
Well, I've always been attracted by the world of pleasures that we can get from good hi-fi systems and more recently by good home theatre equipments. I was only 20 years old (23 years ago) when I bought a pair of Kef 105.4 reference series loudspeakers at $2,000. At that time, I earned only $6,000 a year, and my mother thought I was really crazy to spend so much money. But I have never regretted it and it is the same for all I have bought since then (over $25,000...). More recently, I have discovered your Web Site on the net, and I must tell you that I was very impressed by this incredible DVD search engine. It was not long before I subscribed to your magazine. I have sent your Web Site address to many friends who share my love for home theatre. I'm happy to tell you that they are also very enthusiastic about it. There is nothing that comes close to it. I'm also impressed by the quality of the reviews; in particular the very detailed commentary about sound and picture. I store on my Pocket PC the Picture, DD, DTS and critics rating for all my DVDs (close to 300...). Now, I'm hooked on your magazine (as well as the Web Site), and I can say that I read from cover to cover. I was also impressed with the way you push forward HDTV and in particular, D-VHS. I MUST TELL YOU THAT WE NEED YOU AS MUCH AS YOU NEED US... I appreciate that you are not just doing your job. I can tell that you are really passionate about it, as I am. In fact, if I lived near you, I would love to be part of your team. So, if I had to summarize my thought about why I read Widescreen Review, I would say first that with your magazine and Web Site, I'm much better informed, so I can make smarter equipment and software purchases for my hard-earned money and second but not least, I feel that I am in a modest way, helping you do the work that is important to push forward (faster and better) the wonderful world of home theatre. Keep up the good work. I am a fan from Longueuil (near Montreal.
Michel Lamarche