July 28, 2008

Continental Seating Introduces New Theater Seating Style Proscenium Into Bravo! And Grand Tier Collection



[The following is a release from Continental Seating]




Recent News

November 20, 2014
November 20, 2014
November 20, 2014
November 20, 2014
November 16, 2014
November 13, 2014
November 13, 2014
November 12, 2014
November 12, 2014


Continental Seating, of Carrollton, Texas, announces the new home theater seating style of Proscenium into the Bravo! and Grand Tier Collections. Proscenium is available in a 21" and 24" seat with the choice of Faux Leather, Ritz Suede, and Brazilian Leather coverings from the Bravo! Collection and the choice of 6 grades of leather from the Grand Tier Collection making this introduction flexible in the family of luxurious loungers.

"Continental Seating will continue growing as an industry leader with our unsurpassed attention to areas of product innovation and research and development driven by dealer/designer requests, industry trends, and/or complete and original concepts." said Adam Cox, Principal of Continental Seating. "Proscenium's arched back caters to the high-end custom installer's commitment to enhancing the immersive surround sound experience and, as such, is a perfect addition to our innovative product line."

"Aesthetically, this piece rocks!" said Rick Neverdousky, National Sales Director of Continental Seating. "The Proscenium isn't just about aesthetics and appearance though, our Manufacturing Director, Charlie Smith, was still able to provide a chair with stout comfort and good head support in the viewing position."

Proscenium has a retail price ranging from $1,420.00 to $2,840.00 per seat plus a multitude of seating configurations making this one of the most flexible custom lounger brands available for home theaters today. Each piece of Continental Seating's home theater and multi-media room seating is hand built per order and inspected at every production point during manufacturing, making this a true custom built product. Available from authorized Continental Seating dealers in North America, customers should allow 4 to 6 weeks for delivery from order.

As the manufacturer, Continental Seating offers custom home theater seating through our network of national reps and audio video dealers. The Bravo! Collection has 14 popular loungers that may be covered in Ritz Suede, Faux and Brazilian leathers. The Grand Tier Collection has 20 loungers that can be covered with over 200 colors in 6 different leather grades from the world's finest tanneries. CenterStage Home Entertainment and Multi-Media furniture has 14 styles of sectionals, sofas, chairs and ottomans. Continental Seating will be exhibiting at the 2008 CEDIA EXPO, booth# 274, in Denver, CO Sept. 4-7.







Subscribe to our RSS feed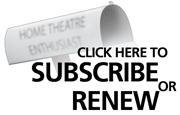 Reason #112 Why Readers Love Widescreen Review:
The first thing that grabbed my interest was the DVD reviews. But after I purchased that first issue and read the reviews, I got hooked on all of the other information contained in each issue. I had adopted the DVD format fairly early on, and I have had a strong preference for widescreen, dating back to my VHS days. The technical information is a godsend. I feel that I have saved so much money by avoiding inferior quality DVDs. I was very ignorant about the technology out there for home theatre and was not aware of the resources I had that were really going to waste. (5.1 in my movie collection) I read and read and read and finally updated my antiquated system. It is such a wonderful joy to turn down the lights, turn up the sound, and enjoy movies more than I ever could at a theatre. I knew it was worth it even more when my wife said, "Cool" as we watched The Others with true surround sound. Widescreen Review has actually helped improve my quality of life!
James Thompson