July 28, 2008

Extend Your HDMI Signal 200 Feet! 1080p, HDCP-Compliant And With Version 1.3 Deep Color



[The following is a release from Cables To Go]




Recent News

August 26, 2014
August 25, 2014
August 19, 2014
August 14, 2014
August 13, 2014
August 13, 2014
August 12, 2014
August 12, 2014
August 7, 2014


Increase the distance to reliably send an HDMI signal - up to 200 feet! This new HDMI repeater allows an HDMI cable distance to be extended to 40 meters using one unit or 60 meters using 2 units. This product has been thoroughly tested, and by using Cables To Go's Sonicwave™ cables, one can place a 20 meter cable from the source to this repeater. Then place another 20 meter cable behind the repeater to deliver 40 meters of "cable distance" (or 131 feet). This new repeater employs a RapidRun™ voltage inserter so that it is powered at the source via the HDMI cable. This makes it easy for the unit to get power. One can place this unit 20 meters away and still power it where the source is and where power is readily available. Note: Only Cables To Go's new HDMI repeater extends HDMI by using the voltage inserter -- we have not seen this offered elsewhere. See it now!







Subscribe to our RSS feed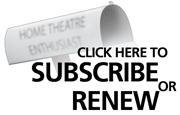 Reason #63 Why Readers Love Widescreen Review:
I am an older guy who had not bought any A/V equipment for the last 14 years. I was really out of the loop as to what was happening. Did not even own a DVD player until now. This summer, my wife and I decided to build a small home theatre in our basement. Widescreen Review has been an invaluable research partner. The room was completed in mid September and now Widescreen Review can really show its stuff. The extensive DVD reviews are the final word for us when picking movies to watch. The news and equipment reviews keep us current, as we start down the never-ending path of upgrade-itis. Thanks for a great magazine.
Daniel Brown