July 28, 2008

Extend Your HDMI Signal 200 Feet! 1080p, HDCP-Compliant And With Version 1.3 Deep Color



[The following is a release from Cables To Go]




Recent News

November 20, 2014
November 20, 2014
November 20, 2014
November 20, 2014
November 16, 2014
November 13, 2014
November 13, 2014
November 12, 2014
November 12, 2014


Increase the distance to reliably send an HDMI signal - up to 200 feet! This new HDMI repeater allows an HDMI cable distance to be extended to 40 meters using one unit or 60 meters using 2 units. This product has been thoroughly tested, and by using Cables To Go's Sonicwave™ cables, one can place a 20 meter cable from the source to this repeater. Then place another 20 meter cable behind the repeater to deliver 40 meters of "cable distance" (or 131 feet). This new repeater employs a RapidRun™ voltage inserter so that it is powered at the source via the HDMI cable. This makes it easy for the unit to get power. One can place this unit 20 meters away and still power it where the source is and where power is readily available. Note: Only Cables To Go's new HDMI repeater extends HDMI by using the voltage inserter -- we have not seen this offered elsewhere. See it now!







Subscribe to our RSS feed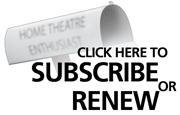 Reason #124 Why Readers Love Widescreen Review:
I read Widescreen Review for its informative articles and DVD and equipment reviews. Most of my DVD purchases come about after reading your reviews. I was also in the market for an intern projector (cheap) until the DLP projector matured and I could afford the more expensive Runco DLP projector. I went through all of my back issues; I have been a subscriber from your very first premier issue, and came across your article on the Sony VPL-HS10 Video Projector. I was so impressed with this article that I called around town to see who carries them and who had one hooked up, so I could review it. I was so impressed with the image quality for a projector in this price range that I ended up purchasing one, even though I was not in the market for an LCD projector. In fact, I have stopped subscribing to other home theatre magazines because I find your magazine to be more informative and straight-to-the-point. Thanks for your informative articles, and keep up the good work.
David Tracy