July 29, 2008

SoundSense Reveals Noise Cancellation System That Eliminates Unwanted Noise In Home Theaters



[The following is a release from SoundSense]




Recent News

July 25, 2014
July 24, 2014
July 23, 2014
July 22, 2014
July 22, 2014
July 22, 2014
July 22, 2014
July 22, 2014
July 22, 2014


SoundSense, LLC reveals methodology effectively eliminating unwanted noise using patented noise cancellation technology. The process requires a small microphone and speaker. The noise-canceling speaker emits sound with opposite qualities of the noise source eliminating distracting sounds in a home theater environment including projection noise, HVAC noise, equipment fans, etc.

Sound is a pressure wave, a noise-cancellation speaker emits a sound wave with the same amplitude and the opposite polarity to the original sound. The waves combine to form a new wave and effectively cancel each other out. Depending on the circumstances and the method used, the resulting sound wave may be so faint as to be virtually inaudible to human ears.

"This simple and effective process will save installers and clients both time and money," says Bonnie Schnitta, SoundSense LLC president. "Every home theater system has unwanted noise that would greatly improve the user experience if eliminated. Our noise cancelling system seamlessly corrects those imperfections every time."







Subscribe to our RSS feed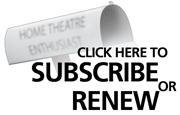 Reason #35 Why Readers Love Widescreen Review:
While on vacation at my uncle's house, I was introduced to WSR. My instinct told me it was just another A/V magazine. Once I picked it up, I couldn't put it down, and I knew this was a keeper. The number one question I receive at work is which is the best sounding movie. With the help of your movie reviews, I now have people calling my cell just to find out which new release sounds the best. Your reviews are always on target! Your product reviews have increased my knowledge beyond expectations. I know that when someone asks me about a new product on the market, all I have to do is wait for my next issue to show up. Your philosophy on sound systems has totally changed the way I go about selling and setting up surround sound systems in my customerís houses. Thanks to WSR I've been able to increase my sales, knowledge, and gain customer satisfaction. In my pursuit for sound perfection WSR is one of my valued assets.
Steve Svalina