July 29, 2008

SoundSense Reveals Noise Cancellation System That Eliminates Unwanted Noise In Home Theaters



[The following is a release from SoundSense]




Recent News

April 23, 2015
April 22, 2015
April 22, 2015
April 22, 2015
April 22, 2015
April 22, 2015
April 20, 2015
April 20, 2015
April 20, 2015


SoundSense, LLC reveals methodology effectively eliminating unwanted noise using patented noise cancellation technology. The process requires a small microphone and speaker. The noise-canceling speaker emits sound with opposite qualities of the noise source eliminating distracting sounds in a home theater environment including projection noise, HVAC noise, equipment fans, etc.

Sound is a pressure wave, a noise-cancellation speaker emits a sound wave with the same amplitude and the opposite polarity to the original sound. The waves combine to form a new wave and effectively cancel each other out. Depending on the circumstances and the method used, the resulting sound wave may be so faint as to be virtually inaudible to human ears.

"This simple and effective process will save installers and clients both time and money," says Bonnie Schnitta, SoundSense LLC president. "Every home theater system has unwanted noise that would greatly improve the user experience if eliminated. Our noise cancelling system seamlessly corrects those imperfections every time."







Subscribe to our RSS feed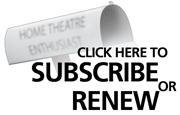 Reason #63 Why Readers Love Widescreen Review:
I am an older guy who had not bought any A/V equipment for the last 14 years. I was really out of the loop as to what was happening. Did not even own a DVD player until now. This summer, my wife and I decided to build a small home theatre in our basement. Widescreen Review has been an invaluable research partner. The room was completed in mid September and now Widescreen Review can really show its stuff. The extensive DVD reviews are the final word for us when picking movies to watch. The news and equipment reviews keep us current, as we start down the never-ending path of upgrade-itis. Thanks for a great magazine.
Daniel Brown