July 29, 2008

SoundSense Reveals Noise Cancellation System That Eliminates Unwanted Noise In Home Theaters



[The following is a release from SoundSense]




Recent News

November 25, 2014
November 25, 2014
November 25, 2014
November 24, 2014
November 24, 2014
November 24, 2014
November 21, 2014
November 20, 2014
November 20, 2014


SoundSense, LLC reveals methodology effectively eliminating unwanted noise using patented noise cancellation technology. The process requires a small microphone and speaker. The noise-canceling speaker emits sound with opposite qualities of the noise source eliminating distracting sounds in a home theater environment including projection noise, HVAC noise, equipment fans, etc.

Sound is a pressure wave, a noise-cancellation speaker emits a sound wave with the same amplitude and the opposite polarity to the original sound. The waves combine to form a new wave and effectively cancel each other out. Depending on the circumstances and the method used, the resulting sound wave may be so faint as to be virtually inaudible to human ears.

"This simple and effective process will save installers and clients both time and money," says Bonnie Schnitta, SoundSense LLC president. "Every home theater system has unwanted noise that would greatly improve the user experience if eliminated. Our noise cancelling system seamlessly corrects those imperfections every time."







Subscribe to our RSS feed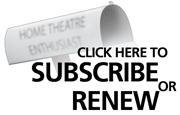 Reason #79 Why Readers Love Widescreen Review:
I am addicted to home theatre equipment and buying DVDs . I love buying DVDs, then listening to them on my home theatre system. The fix to my addiction is Widescreen Review. It helps to keep me up to date on the latest equipment, as well as the DVD reviews. In my humble opinion, WSR has the best equipment reviews and the most comprehensive DVD reviews anywhere. I look forward to my issue of Widescreen Review every month.
Name Unknown