October 3, 2008

New Jamo® DMR 70 Receiver Designed For Serious Home Theater

Advanced 5.1-channel DVD receiver operates as a single, easy-to-use component

[The following is a release from Jamo]


Recent News

August 14, 2014
August 13, 2014
August 13, 2014
August 12, 2014
August 12, 2014
August 7, 2014
August 7, 2014
August 6, 2014
August 5, 2014


The Denmark-based Jamo® brand, with offices in Indiana, is now making its popular DMR 70 DVD receiver available to U.S. audiences. Packed with performance, this home theater hub offers high-tech five-channel power, HDMI compliance as well as the latest in audio and video decoding.

According to Rune Karsbaek, director of product planning for Jamo, unlike competitive models, the compact, high-gloss black DMR 70 is equally impressive with both music and movie sound—and it does so with visual and operational elegance.

"Jamo designs have always been about style, simplicity and functionality," he said. "And you'll definitely notice the core philosophy in this product. The DMR 70 is meant to be the perfect electronics fit for anybody and any living environment."

The DMR 70 employs five 65-watt channels for a total system power of 325 watts, bringing out the best in today's demanding soundtracks. Add a Jamo SUB 200 subwoofer to the mix and you'll get 525 watts of power. This receiver also utilizes Dolby® Digital, DTS 5.1 and Dolby® Pro-Logic II to ensure dynamic, wraparound sonic experiences.

A perfect solution for modern flat TVs, the DMR 70 upscales DVDs to either a 720p or 1080i HD resolution via its HDMI output (component video is also provided). It also supports a wide range of video formats, including DivX Ultra, Xvid, WMA, SVCD, MP3 and JPEG.

Just 2 inches tall, the DMR 70's sleek, trim stature allows it to be installed within the most confined locations with minimal fuss. It utilizes a modern Class D amplifier, which allows component sizes to be reduced dramatically compared to traditional methods of amplification. Portable digital audio devices connect via the USB socket and auxiliary input jacks that are mounted on the receiver's front panel for convenience. There's also a headphone jack for more personal listening.

Featuring intelligently laid-out buttons, even the DMR 70's remote control reflects the importance the company places on products being easy and logical to operate in daily use. Plus, it's designed to work with a number of Jamo speakers.

When it comes to pairing the DMR 70 up with speakers, Jamo has a variety of home theater recommendations, including the compact A 3 systems or even smaller A 102 setup.

Carrying a U.S. MSRP of $449, the DMR 70 is available for purchase at select dealers and distributors.







Subscribe to our RSS feed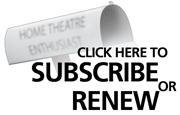 Reason #48 Why Readers Love Widescreen Review:
In addition to Widescreen Review, I subscribe to several audio/video publications, such as Sound And Vision, Stereophile, Stereophile Guide To Home Theater, Audio Video Interiors, and peruse through the myriad of British audio video publications when I go to Borders, Barnes & Nobles, or Tower Records. I must acknowledge that Widescreen Review is one of the better ones because it is more like a trade publication than a magazine full of advertisements. Moreover, Widescreen Review was one of the first publications to delve into DVI and more importantly, HMDI, which I deem important because it can make a lot of the current products out there obsolete. Put simply, Widescreen Review is The New York Times of audio/video publication. In other words, if you want real news, you read The New York Times. To stay on top of what's happening in the audio/video industry, you read Widescreen Review. Enough said.
Dick Lew