October 8, 2008

Velodyne Introduces Impact Series Subwoofers




Recent News

November 26, 2014
November 26, 2014
November 25, 2014
November 25, 2014
November 25, 2014
November 25, 2014
November 24, 2014
November 24, 2014
November 24, 2014


Velodyne Acoustics, Inc., the world's leading manufacturer of powered subwoofers for home-theater and consumer audio, introduces the Impact Series subwoofers, an affordable line of high-output, low distortion subwoofers with attractive styling and black gloss trim. The Impact-Mini, Impact-10 and Impact-12 make up the Impact Series.

The Impact-Mini uses a 6.5" forward firing driver and 8" down-firing passive radiator and features a 300W dynamic power, 180W RMS power amplifier. The dish-shaped aluminum cones limit standing waves, minimize distortion and maximize bass output. With 10" x 10" x 12' dimensions, this tiny cabinet can easily be concealed in any room.

The Impact-10 and Impact-12 each feature a down-firing port to maximize bass performance and output, and minimize distortion. The Impact-10 features a 250W dynamic, 150W RMS amplifier and the Impact-12 features a 275W dynamic, 165W RMS amplifier.

All three models include MDP amplifiers with more dynamic headroom for high impact, 2" copper-wound voice coils and an adjustable, high quality crossover system to perfectly match the subwoofer with the main speakers in the room.

The Impact Series is available immediately and has a suggested retail price of $549 for the Impact-Mini, $399 for the Impact-10 and $499 for the Impact-12.







Subscribe to our RSS feed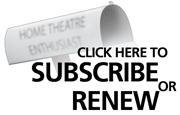 Reason #53 Why Readers Love Widescreen Review:
There was little in the way of reading material to bridge the gap between the broadcast-level technical and the common consumer. Most of the generic publications were too simplistic with not enough meat. As the DVDs' popularity developed beyond everyone's wildest dreams, it became painfully obvious that there was a serious lack of credible printed matter to support the medium. And with HDTV in the wings, even less to draw from. Or so I thought, until I came upon Widescreen Review at a newsstand while on one of those proverbial business trips. I couldn't believe my eyes! Here's the kind of magazine I was looking for. But then, thinking that this was just a one-off issue, which just happened to contain an abundance of knowledge in an occasional issue, I decided to temper my enthusiasm and become a newsstand reader to see if the articles and features held up consistently. Well, that was all many issues ago and I'm now a dyed-in-the-wool reader of Widescreen Review. To their credit, the magazine has and continues to improve upon their expertise in the field. It's truly a one-stop resource when it comes to the latest in the ever-evolving world of audio/video integration for the consumer. Pixel on!
Wayne J Mastel