November 3, 2008

Q-tec Completes First Installation Of RealD's 3D System In Japan



[The following is a release from Q-tec and Real D]




Recent News

July 23, 2014
July 22, 2014
July 22, 2014
July 22, 2014
July 22, 2014
July 22, 2014
July 22, 2014
July 22, 2014
July 21, 2014


Q-tec, Inc., one of Japan's leading video post production service providers, announced today that it has completed the first domestic installation of 3D cinema system developed by RealD, the global leader in digital 3D. Q-tec plans to begin the full-scale operation in November 2008.

The number of digital 3D cinema screens in Japan was around 30 at the end of 2007, but there are currently more than 50 screens available as the US film "Journey to the Center of the Earth 3D" was released on October 25. The number is projected to rise with the expectation of 3D films produced and released in Japan. Q-tec has assessed the needs of production facilities for 3D moviemaking and opened a 3D video editing studio with RealD's 3D systems. New services such as 2D to 3D conversion and 3D-CG creation will also be offered at the studio.







Subscribe to our RSS feed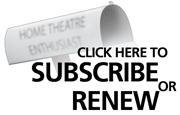 Reason #17 Why Readers Love Widescreen Review:
I read this bad-ass magazine for its tight reference systems and for helping me set up my Monster HTPS 7000 Home Theatre Power Source. It also helps me set up my Hitachi Ultra Vision LCD TV. I also read it for the DVD reviews, along with the DVD drop dates. I also read it so I can daydream about actually owning something in this magazine, including that Monster HTPS 7000. I have a Bose system, but I'm ready to step it up.
Stephen Bagwell