November 3, 2008

Best Buy Qualifies All Insignia LCD Televisions For ENERGY STAR 3.0 Specification

All exclusive-branded LCD models manufactured after Nov. 1, 2008 will meet the new standard; six models to exceed the standard by 15 percent

[The following is a release from Best Buy]


Recent News

August 27, 2014
August 26, 2014
August 25, 2014
August 19, 2014
August 14, 2014
August 13, 2014
August 13, 2014
August 12, 2014
August 12, 2014


Best Buy Co., Inc.has announced that its entire line of exclusive-branded Insignia LCD televisions manufactured after November 1, 2008 will meet the new ENERGY STAR version 3.0 requirements, including six Insignia models which will exceed the new specification for energy-efficient televisions by 15 percent or more.

The move is part of Best Buy's commitment to listen to the needs of consumers, provide more energy-efficient options for electronics and appliances, and support ENERGY STAR both as a retailer and a manufacturer. It also signals the company's leadership in bringing energy-efficient televisions to market, starting with its own Insignia line: Best Buy worked together with its components and original equipment manufacturers to design and build Insignia LCD televisions that are up to 30 percent more energy efficient than non-qualified models.

ENERGY STAR identifies products in more than 50 different categories, including televisions, that use less energy without sacrificing quality or performance. The "on" or active mode on current television units – plasma, LCD, CRT, or rear projection – accounts for approximately 80 to 90 percent of its energy usage. ENERGY STAR Version 3.0 televisions improve upon previous ENERGY STAR specifications by addressing both standby power (when the television is off) and active power (when the television is on). By accounting for both standby and active modes, ENERGY STAR 3.0 qualified TVs like the entire Insignia LCD line are considered the most energy-efficient in their product categories, helping consumers reduce energy use and save money on their utility bills.

All Insignia LCD televisions available at Best Buy stores across the U.S. by December 31, 2008 will be ENERGY STAR 3.0 certified. For more information and an updated list of brands meet the 3.0 specification, visit www.energystar.gov/products.








Subscribe to our RSS feed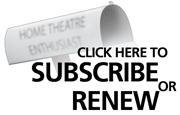 Reason #128 Why Readers Love Widescreen Review:
I read Widescreen Review because it gets to the details I'm really interested in knowing. It doesn't beat around the bush. I love the DVD reviews and the insightful articles. Besides insightful, WSR seems to be able to put into print some of the latest breaking news in this ever-changing industry within weeks, if not days, of the original release of the news. And last but not least, I have access to the subscription website.
Jeffrey Koerner