November 17, 2008

Krell Industries Releases S-300i Integrated Amplifier

An iPod/iPhone interface and other cutting-edge features highlight this affordable and elegant new component.

[The following is a release from Krell Industries]


Recent News

March 5, 2015
March 5, 2015
March 2, 2015
March 2, 2015
February 25, 2015
February 24, 2015
February 24, 2015
February 23, 2015
February 20, 2015


Krell Industries today announced a new integrated amplifier that is as remarkable for its advanced features as it is for its affordable price.

The S-300i integrated amplifier combines a fully balanced, Class A preamplifier circuit with a stereo amplifier rated at 150 watts per channel into 8 ohms and 300 watts per channel into 4 ohms. Its circuit design borrows the Current Mode technology used in Krellís top-of-the-line Evolution amps and preamps. This technology delivers unequaled signal bandwidth, ensuring clear, powerful response from the deepest notes of the bass drum to the highest notes of the piccolo.

A massive 750 VA toroidal transformer and 38,000 microfarads of storage capacitance make the S-300iís amplifier section one of the most robust ever incorporated into an integrated amplifier.

The S-300i also delivers state-of-the-art conveniences audiophiles might not expect. First among these is its included iPod/iPhone interface. Like Krellís award-winning KID iPod/iPhone dock, the S-300iís iPod/iPhone interface taps audio from the fully differential output included in iPods and iPhonesóa capability no other manufacturer has used. A cable for iPod/iPhone connection is included.

An included solid aluminum remote controls the S-300i, the playback functions of a connected iPod or iPhone, and Krell CD, SACD, and DVD players.

The machined aluminum volume control on the front also accesses the S-300iís control menus, which can be viewed on the unitís front-panel display. The menu system controls such functions as balance, input trim, input naming, and muting levelómost of which are not offered on integrated amps controlled by traditional switches and knobs.

A theater pass-through mode allows the S-300i to operate seamlessly in conjunction with a surround-sound system. In this mode, listeners can enjoy the S-300iís high-quality sound and formidable output while allowing a surround-sound receiver to handle the center and surround channels. The inclusion of this mode means that two-channel audio enthusiasts sacrifice no sound quality or convenience if they decide to add surround sound.

The S-300iís back panel offers three unbalanced RCA inputs, a balanced XLR input, a jack for the iPod/iPhone cable, and high-quality WBT speaker cable terminals. The chassisís compact 4.2-inch height makes it easy to fit into entertainment centers or equipment racks. And its handsome brushed-aluminum faceplate suits any decor.

Installers and systems integrators will find all the features they need to make the S-300i work with external control systems such as AMX and Crestron touchscreens. The back panel includes 3.5mm jacks for IR input and 12-volt trigger input and output, as well as an RS-232 connector. Ears for rack-mounting are included.

Suggested U.S. retail price for the S-300i is $2,500.

ďWith its iPod interface and menu-driven control, the S-300i delivers a new level of convenience for devotees of two-channel audio,Ē said Dan DíAgostino, cofounder, CEO, and Chief Designer of Krell Industries. ďItís an affordable way to bring Krellís incomparable sound quality into any home.Ē

For more information and specifications on the S-300i and other Krell Industries products, visit www.krellonline.com.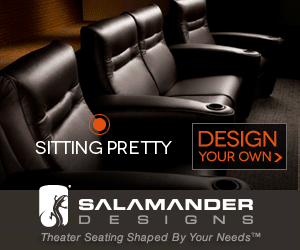 Subscribe to our RSS feed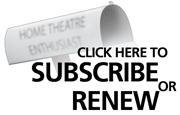 Reason #9 Why Readers Love Widescreen Review:
WSR is a terrific resource for anyone interested in keeping up with the state of the art in home theatre. It's the only publication I know of that dedicates not only significant space to discussing upcoming trends, but considerable time and effort is spent pushing those trends towards realization. The home theatre cruise, Joe Kane's technical discussions, D-Theater, and in the latest issue, the movement towards establishing a surround sound recording standard are just a few examples of WSR's leadership. Greg Rogerís review of the Sharp XV-Z12000 made me want to run out and buy it, but last year I bought the Sony HS10 projector (sight unseen) purely on the strength of his thorough, detailed review. I have been very happy with my purchase. It is impossible for me to evaluate all of the pros and cons of a piece of equipment by looking at it in a home theatre shop. It just takes too long to become familiar with operational quirks and to judge how things might be different in my home than in the retail environment. I have bought other expensive equipment based largely on your reviews. WSR is to be commended for dedicating the space in its pages to such thorough reporting. Lastly, your Web Site is topnotch. I use it regularly to keep up with industry news and to look up past equipment reviews. It serves as my filing cabinet for a wealth of HT information. Keep up the great work.
John VanNest