December 31, 2008

Premier Mounts Introduces The First Fully-Integrated TV Lift System

Motorized lift can be adapted to a variety of home, hospitality and business settings

[The following is a release from Premier Mounts]


Recent News

April 18, 2015
April 18, 2015
April 17, 2015
April 17, 2015
April 17, 2015
April 15, 2015
April 13, 2015
April 13, 2015
April 13, 2015


Designing versatile and functional A/V solutions for more than 30 years, Premier Mounts (www.premiermounts.com) has expanded its mount portfolio to include motorized lift systems for flat-panel displays. Premier Mounts will introduce the industry's first fully-integrated motorized lift system at the 2009 CES trade show in Las Vegas (booth #20507).

The use of motorized lifts has become standard in luxury home living rooms, bedrooms and boardrooms. Insert into an existing or customized cabinet, the mount enables homeowners and businesses to hide or conceal their flat-panel TVs at the touch of a button.

"Many consumers and businesses like having the option to hide or put away large flat-panel TVs when not in use," said Jason Cole, product marketing manager at Premier Mounts. "Not only does it free up space, the lift also maintains the integrity of a room's design. With so many design options available for cabinets and cases, Premier Mounts' motorized mounting systems can add a luxurious and customized element to any space."

Premier Mounts' LIFT1 (single system) and LIFT2 (dual system) are the simplest, quietest and safest motorized lift systems on the market today. Both systems have a maximum extension (raised height) of 71 inches — one of the highest reaches available. LIFT1 system holds flat-screens up to 52 inches can support up to 180 lbs. and has a MSRP listing of $2,499.99. The dual system, LIFT2, has a MSRP listing of $4,199.99 and can support flat-panels up to 58 inches and 360 lbs.

The Premier Mounts LIFT systems include:
Steel three-channel floorboard
Self-contained two-speed lift mechanism with no exposed chains
Lift controller module
Rear support collar
Universal flat-panel mount
Hinged or floating lid mechanism
Optional equipment available with each system includes an AC Power Sensor ($99.99) and an infrared handheld remote with a wired Control Receiver Panel ($119.99).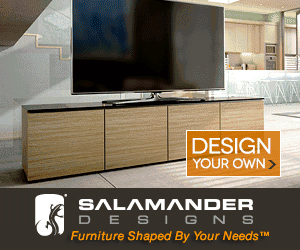 Subscribe to our RSS feed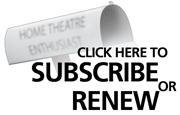 Reason #129 Why Readers Love Widescreen Review:
I enjoy the in-depth look at industry trends, informative and intelligent articles on emerging technologies, and of course, the new products in the Coming Soon…section. I like the fact that your magazine is not jammed packed with manufacturer's marketing and sales ads. I understand having some but not as many as your competitor (HTM). I enjoy the movie reviews, which I found to be much more accurate than others (HTM). And lastly, I am a fellow Hungarian like Gary, heck we even share the same fascination for high-tech gadgets. I stopped by the booth at CES, unfortunately I missed him each time. Keep up the good work.
Jules Tombor