December 31, 2008

Premier Mounts Introduces The First Fully-Integrated TV Lift System

Motorized lift can be adapted to a variety of home, hospitality and business settings

[The following is a release from Premier Mounts]


Recent News

February 24, 2015
February 24, 2015
February 23, 2015
February 20, 2015
February 20, 2015
February 19, 2015
February 19, 2015
February 18, 2015
February 18, 2015


Designing versatile and functional A/V solutions for more than 30 years, Premier Mounts (www.premiermounts.com) has expanded its mount portfolio to include motorized lift systems for flat-panel displays. Premier Mounts will introduce the industry's first fully-integrated motorized lift system at the 2009 CES trade show in Las Vegas (booth #20507).

The use of motorized lifts has become standard in luxury home living rooms, bedrooms and boardrooms. Insert into an existing or customized cabinet, the mount enables homeowners and businesses to hide or conceal their flat-panel TVs at the touch of a button.

"Many consumers and businesses like having the option to hide or put away large flat-panel TVs when not in use," said Jason Cole, product marketing manager at Premier Mounts. "Not only does it free up space, the lift also maintains the integrity of a room's design. With so many design options available for cabinets and cases, Premier Mounts' motorized mounting systems can add a luxurious and customized element to any space."

Premier Mounts' LIFT1 (single system) and LIFT2 (dual system) are the simplest, quietest and safest motorized lift systems on the market today. Both systems have a maximum extension (raised height) of 71 inches — one of the highest reaches available. LIFT1 system holds flat-screens up to 52 inches can support up to 180 lbs. and has a MSRP listing of $2,499.99. The dual system, LIFT2, has a MSRP listing of $4,199.99 and can support flat-panels up to 58 inches and 360 lbs.

The Premier Mounts LIFT systems include:
Steel three-channel floorboard
Self-contained two-speed lift mechanism with no exposed chains
Lift controller module
Rear support collar
Universal flat-panel mount
Hinged or floating lid mechanism
Optional equipment available with each system includes an AC Power Sensor ($99.99) and an infrared handheld remote with a wired Control Receiver Panel ($119.99).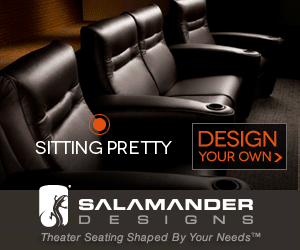 Subscribe to our RSS feed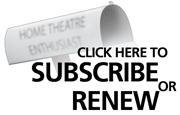 Reason #85 Why Readers Love Widescreen Review:
Well, I've always been attracted by the world of pleasures that we can get from good hi-fi systems and more recently by good home theatre equipments. I was only 20 years old (23 years ago) when I bought a pair of Kef 105.4 reference series loudspeakers at $2,000. At that time, I earned only $6,000 a year, and my mother thought I was really crazy to spend so much money. But I have never regretted it and it is the same for all I have bought since then (over $25,000...). More recently, I have discovered your Web Site on the net, and I must tell you that I was very impressed by this incredible DVD search engine. It was not long before I subscribed to your magazine. I have sent your Web Site address to many friends who share my love for home theatre. I'm happy to tell you that they are also very enthusiastic about it. There is nothing that comes close to it. I'm also impressed by the quality of the reviews; in particular the very detailed commentary about sound and picture. I store on my Pocket PC the Picture, DD, DTS and critics rating for all my DVDs (close to 300...). Now, I'm hooked on your magazine (as well as the Web Site), and I can say that I read from cover to cover. I was also impressed with the way you push forward HDTV and in particular, D-VHS. I MUST TELL YOU THAT WE NEED YOU AS MUCH AS YOU NEED US... I appreciate that you are not just doing your job. I can tell that you are really passionate about it, as I am. In fact, if I lived near you, I would love to be part of your team. So, if I had to summarize my thought about why I read Widescreen Review, I would say first that with your magazine and Web Site, I'm much better informed, so I can make smarter equipment and software purchases for my hard-earned money and second but not least, I feel that I am in a modest way, helping you do the work that is important to push forward (faster and better) the wonderful world of home theatre. Keep up the good work. I am a fan from Longueuil (near Montreal.
Michel Lamarche