February 6, 2009

JBL WEM-1 Wireless Expansion Module




Recent News

July 24, 2014
July 23, 2014
July 22, 2014
July 22, 2014
July 22, 2014
July 22, 2014
July 22, 2014
July 22, 2014
July 22, 2014


JBL is now shipping a new wireless module. The JBL WEM-1 (SRP: $359) adds wireless capability to any loudspeaker. It eliminates the need to run speaker wires across a room or through walls, floors or ceilings.

The WEM-1 includes a transmitter module that connects to an audio source; a receiver/amplifier unit that connects to a pair of loudspeakers; a remote control; and accessories. It is ideal for adding multiroom capability to an existing audio system; adding surround loudspeakers to a home theatre system without running speaker wires; distributing music to anywhere in the home from a computer; and for many other applications.

The WEM-1 has an operating range of up to 70 feet. It provides a variety of connection options to accommodate a wide range of audio source components and A/V receivers.

The receiver/amplifier unit features a 50-watt-per-channel amplifier and includes a subwoofer output. It provides five equalization curves that are tailored for use with select JBL loudspeakers; it also provides an unequalized bypass setting.

The receiver/amplifier also has a local input, allowing the user to directly connect a portable device or other audio source to it at a remote location.







Subscribe to our RSS feed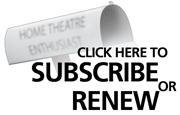 Reason #125 Why Readers Love Widescreen Review:
I read Widescreen Review for the up-to-date info on HDTV, HDTV recording, projector reviews, HDTV receiver reviews (though those are few!), amplifier, and pre-amp reviews, and, of course, DVD/D-VHS movie reviews! I respect most about your writing the total honesty in your reviews. Supplying the most truthful opinions and facts mark you as one of the best in your field!
Roy Shane Hayley