February 27, 2009

Acoustic Energy Shipping New Flagship Home Theater Monitors

Impeccable Sonics, Elegant Aesthetics and Advanced Technology Mark The Debut Of New Radiance Series



Recent News

April 23, 2015
April 22, 2015
April 22, 2015
April 22, 2015
April 22, 2015
April 22, 2015
April 20, 2015
April 20, 2015
April 20, 2015


Acoustic Energy, the award-winning U.K.-based designer and manufacturer of audiophile-grade loudspeakers,is now shipping the Radiance Series, a new flagship lineup of precision loudspeakers for music and cinema lovers who demand no-compromise performance and elegant visual appeal.


"Today's high-resolution audio sources for the home are as good as what comes out of the mastering suite," says Moses Gabbay, Managing Director, Acoustic Energy Ltd. "But all too few loudspeakers are able to render all their detail and realism. With the Radiance Series, home listeners can now really experience everything that went into the recordings, through speakers that are as beautiful to the eyes as they are to the ears."

The Radiance Series is distinguished by an exciting new high-frequency dispersion technology dubbed the "DXT® Lens." Using advanced profile calculations, the DXT® Lens matches the sound wave dispersion from the tweeter to that of the bass driver. This improves interaction between the loudspeakers and the room and provides time coherence that dramatically 'naturalizes' the entire soundfield.

At the top of the Radiance Series stands the mighty Radiance 3 ($3,000/pr.), a three-way floor-standing design that features a 38mm Neodymium Ring-radiator tweeter, as well as super-fast low-frequency and mid-band drivers with twin-wound aluminum voice coils that combine exceptional power handling of up to 200 watts with enough sensitivity (90 dBm/watt/meter) to mate perfectly with more modestly powered solid state and tube amplifiers. Response is a broad and flat 40 Hz to 45 kHz ± 3dB.

The same core Acoustic Energy technologies are shared by the smaller Radiance 1 ($1,200/pr.) and Radiance 2 ($2,000/pr.) models, designed for bookshelf or speaker stand placement. The accompanying Radiance Center ($800 ea.) utilizes the same driver and DXT® Lens technologies, and is a perfect timbral match for any of the other Radiance models. The Radiance Subwoofer ($1,200 ea.) completes the picture with deep, authoritative bass from a compact, unobtrusive enclosure.

With their elegant curved lines, attractive cast aluminum metal work and the highest quality real-wood veneers, the Radiance Series make beautiful items of furniture that are at home in any décor.

The Acoustic Energy Radiance Series will be available in February to authorized Acoustic Energy dealers.

Acoustic Energy Limited was founded in 1987 and originally based in West London before relocating to its current 15,000 square foot facility in Cotswolds. Today, the company enjoys a stellar reputation among hi-fi and home theater fans on both sides of the Atlantic, thanks to the unchanging passion for truthfulness to the original source material that is the hallmark of all the company's offerings.

In the U.S., Acoustic Energy is located at 675 VFW Parkway, #102, Chestnut Hill, MA 02467. For further information about Acoustic Energy and its products, contact Adam Sohmer, 718 499 9161, adam@sohmerassoc.com, or visit the company's Web site at www.acoustic-energy.co.uk.








Subscribe to our RSS feed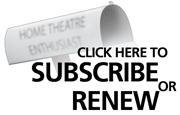 Reason #117 Why Readers Love Widescreen Review:
With Widescreen Review, I am able to get online to obtain concise accurate reviews on virtually every current and past DVD. This enables me to make educated decisions on which DVD to purchase, or not. There are also excellent product reviews and current product and technology updates. This magazine is put together by informed and knowledgeable people. This magazine is not just mandatory for audiophiles, but also for the everyday home theatre enthusiast. And for an added bonus it's fun to read.
Mark Zwern