October 19, 2009

Major LCD TV Makers To Jointly Oppose California TV Energy Regulation (CEDailyNews.com)




Recent News

August 14, 2014
August 13, 2014
August 13, 2014
August 12, 2014
August 12, 2014
August 7, 2014
August 7, 2014
August 6, 2014
August 5, 2014


EXCERPT: A group of major LCD TV makers is planning to submit a joint letter to the California Energy Commission opposing its proposed energy use limits for TVs, according to an industry executive involved in drafting the letter. The move would put the LCD TV makers at odds with the position taken by the LCD TV Association, which last week told the commission that LCD TVs can meet the CEC's proposed tier two-levels in 2012 "with current technology [and] without substantial cost premiums to the consumer" (GED Oct 14 p1).

…Meanwhile, CE industry executives complained that stakeholders who opposed the regulation were given short shrift at the CEC public hearing last week (GED Oct 14 p1). "We are not only dealing with an unjustified and unnecessary regulation but we are also dealing with a terribly biased process," said Douglas Johnson, CEA senior director of technology policy. Neither of the commissioners who presided over the hearing had been involved in the TV specification process or past hearings where issues were discussed in detail, he said.

One industry executive said the hearing was "basically a sham" because the first 15 people who were called to testify were supporters of the regulation. "The speakers were supposed to be selected at random," he said. Another CE official said opponents of the regulation weren't given the "same opportunity to make presentations" as were given to environmental groups and others who backed the regulation. It was clear that the CEC was "pretty determined" to adopt the regulation "regardless of what we say," he said. The CEC did not respond by our deadline to a request for comment.

"We are very disappointed that the CEC continues not to listen to industry's arguments," said Mark Sharp, group manager of Panasonic's Corporate Environmental Department. Another worry is that the proposed regulations "lack any consumer education component for the most part," he said. "The ultimate result of that will be TVs that have fewer features" and models that don't qualify to be sold in the state, he said. "It's a situation where we feel that we are going to have the California Energy Commission ultimately design TVs feature by feature and we are very dismayed that the CEC apparently does not trust consumers to make their decisions."

Comprised of consumers, small businesses, trade groups and associations, Californians for Smart Energy (www.CASmartEnergy.com) is a growing coalition dedicated to having a real discussion about meeting California's energy needs – without job-killing regulations that are harmful to California's economy. You can also find us on Twitter (www.twitter.com/casmartenergy) and Facebook (www.facebook.com/pages/Californians-for-Smart-Energy/118950385329) and YouTube (www.youtube.com/casmartenergy).








Subscribe to our RSS feed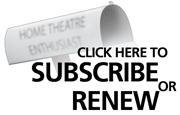 Reason #85 Why Readers Love Widescreen Review:
Well, I've always been attracted by the world of pleasures that we can get from good hi-fi systems and more recently by good home theatre equipments. I was only 20 years old (23 years ago) when I bought a pair of Kef 105.4 reference series loudspeakers at $2,000. At that time, I earned only $6,000 a year, and my mother thought I was really crazy to spend so much money. But I have never regretted it and it is the same for all I have bought since then (over $25,000...). More recently, I have discovered your Web Site on the net, and I must tell you that I was very impressed by this incredible DVD search engine. It was not long before I subscribed to your magazine. I have sent your Web Site address to many friends who share my love for home theatre. I'm happy to tell you that they are also very enthusiastic about it. There is nothing that comes close to it. I'm also impressed by the quality of the reviews; in particular the very detailed commentary about sound and picture. I store on my Pocket PC the Picture, DD, DTS and critics rating for all my DVDs (close to 300...). Now, I'm hooked on your magazine (as well as the Web Site), and I can say that I read from cover to cover. I was also impressed with the way you push forward HDTV and in particular, D-VHS. I MUST TELL YOU THAT WE NEED YOU AS MUCH AS YOU NEED US... I appreciate that you are not just doing your job. I can tell that you are really passionate about it, as I am. In fact, if I lived near you, I would love to be part of your team. So, if I had to summarize my thought about why I read Widescreen Review, I would say first that with your magazine and Web Site, I'm much better informed, so I can make smarter equipment and software purchases for my hard-earned money and second but not least, I feel that I am in a modest way, helping you do the work that is important to push forward (faster and better) the wonderful world of home theatre. Keep up the good work. I am a fan from Longueuil (near Montreal.
Michel Lamarche