January 27, 2011

Pioneer Elite Plasma Flat-Panel Displays Licensed To Sharp Electronics




Recent News

August 14, 2014
August 13, 2014
August 13, 2014
August 12, 2014
August 12, 2014
August 7, 2014
August 7, 2014
August 6, 2014
August 5, 2014


Sharp has announced that it has been granted a license of Pioneer's Elite brand for high-end displays that will be begin shipping starting later this year.

Pioneer Elite HDTVs were discontinued in 2009. The new HDTVs will be jointly marketed by Sharp and Pioneer, and marketed through Pioneer's Elite dealer network.

"As a leader in large screen LCD TV, we are excited to collaborate with Pioneer to bring a high-end LCD TV to the Elite consumer," John Herrington , President of Sharp Electronics Marketing Company of America, said as part of the announcement. "The Elite brand is highly respected in the high end market and Sharp can deliver the quality and innovation that Elite customers demand."

"Adding a line of high-end flat panel TVs fills a market need in the industry and will help reinforce the strength of a complete Elite home theater offering," Russ Johnston, Executive VP, Home Electronics Department of Pioneer, said in a statement.

"With its cutting edge LCD technology and unmatched production capabilities, Sharp is an important strategic collaborator that will deliver a whole new dimension to the large-screen home theater experience."







Subscribe to our RSS feed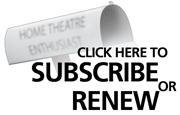 Reason #9 Why Readers Love Widescreen Review:
WSR is a terrific resource for anyone interested in keeping up with the state of the art in home theatre. It's the only publication I know of that dedicates not only significant space to discussing upcoming trends, but considerable time and effort is spent pushing those trends towards realization. The home theatre cruise, Joe Kane's technical discussions, D-Theater, and in the latest issue, the movement towards establishing a surround sound recording standard are just a few examples of WSR's leadership. Greg Rogerís review of the Sharp XV-Z12000 made me want to run out and buy it, but last year I bought the Sony HS10 projector (sight unseen) purely on the strength of his thorough, detailed review. I have been very happy with my purchase. It is impossible for me to evaluate all of the pros and cons of a piece of equipment by looking at it in a home theatre shop. It just takes too long to become familiar with operational quirks and to judge how things might be different in my home than in the retail environment. I have bought other expensive equipment based largely on your reviews. WSR is to be commended for dedicating the space in its pages to such thorough reporting. Lastly, your Web Site is topnotch. I use it regularly to keep up with industry news and to look up past equipment reviews. It serves as my filing cabinet for a wealth of HT information. Keep up the great work.
John VanNest