January 27, 2011

Pioneer Elite Plasma Flat-Panel Displays Licensed To Sharp Electronics




Recent News

July 22, 2014
July 22, 2014
July 22, 2014
July 22, 2014
July 22, 2014
July 22, 2014
July 21, 2014
July 17, 2014
July 11, 2014


Sharp has announced that it has been granted a license of Pioneer's Elite brand for high-end displays that will be begin shipping starting later this year.

Pioneer Elite HDTVs were discontinued in 2009. The new HDTVs will be jointly marketed by Sharp and Pioneer, and marketed through Pioneer's Elite dealer network.

"As a leader in large screen LCD TV, we are excited to collaborate with Pioneer to bring a high-end LCD TV to the Elite consumer," John Herrington , President of Sharp Electronics Marketing Company of America, said as part of the announcement. "The Elite brand is highly respected in the high end market and Sharp can deliver the quality and innovation that Elite customers demand."

"Adding a line of high-end flat panel TVs fills a market need in the industry and will help reinforce the strength of a complete Elite home theater offering," Russ Johnston, Executive VP, Home Electronics Department of Pioneer, said in a statement.

"With its cutting edge LCD technology and unmatched production capabilities, Sharp is an important strategic collaborator that will deliver a whole new dimension to the large-screen home theater experience."







Subscribe to our RSS feed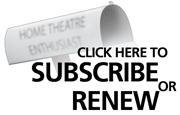 Reason #84 Why Readers Love Widescreen Review:
Let me tell you a story about a man named Mike. Overwhelmed by components, can't believe marketing claims. And then one day while surfing on the net, up came a page with an interesting claim... Knowledge that is. Reference material. Widescreen Review. Well, the first thing you know old Mike's signed up. Getting monthly coverage and in-depth reviews. He thought Widescreen Review is what we all should read. So now I'm reading Joe Kane and spouting ISF calibration, that is. Image quality. SMPTE bars.
Mike Koubeck