September 21, 2012

OPPO Announces Two New Blu-ray Player Models



BDP-103 and BDP-105 Provide High Definition Video and Audio from All Sources




Recent News

April 23, 2015
April 22, 2015
April 22, 2015
April 22, 2015
April 22, 2015
April 22, 2015
April 20, 2015
April 20, 2015
April 20, 2015


After an award-winning streak of nearly two years by the acclaimed BDP-93 and BDP-95 Blu-ray players, OPPO Digital has announced two new universal Blu-Ray Disc players. The BDP-103 and BDP-105 are premium universal Blu-ray Disc™ players that support Blu-ray, Blu-ray 3D, DVD-Video, DVD-Audio, Super Audio CD (SA-CD), HDCD, and CD formats. Additionally, the players feature three USB ports as well as wired and wireless networking to support popular video and audio file formats including AVCHD, MKV video, high-resolution WAV and FLAC music, and digital photos. The players provide access to popular entertainment network services including Netflix®, VUDU®, Film Fresh®, Pandora® and YouTube®, with more to come.

OPPO products are known for their excellent picture quality, and the BDP-103 and BDP-105 continue in this tradition. Using a two-step video processing approach that utilizes a custom dual-core SoC and the latest generation of Marvell's Qdeo® video processor, the players deliver a stunning theatrical experience with true-to-life picture. Additional video processing features include 4K up-scaling, 2D-to-3D conversion, 1080p24Hz output, HDMI 1.4 with Deep Color, Source Direct output, and extensive picture control and enhancement options. Two HDMI outputs are provided, adding to the players' versatility by allowing one output to be used for video and the other for audio, and even enabling the player to drive two displays at the same time.

On the audio side, both players support all of the high-resolution audio formats with bitstream output and onboard decoding of Dolby® TrueHD and DTS-HD® Master Audio™. For SA-CD playback, users can choose between sending native DSD or converted PCM through the HDMI and analog outputs depending on their preference and equipment compatibility. The BDP-103 provides a configurable 7.1ch analog output that can be used in stereo, 5.1ch or 7.1ch mode. The BDP-105 adds audiophile-grade components including an analog output section sporting two ESS Sabre32 Reference DACs, a newly designed Toroidal linear power supply, dedicated stereo outputs with both RCA and XLR balanced connections, and a headphone amplifier connected directly to the DAC.

Last but not least, customers have always asked for ways to take further advantage of the excellent audio and video processing functions provided by the OPPO players, and the new players answer this request by adding two HDMI input ports, one on the front and one on the back, with the front HDMI input doubling as a Mobile High-definition Link (MHL®) input. Users can connect external devices such as set-top boxes, network streaming devices, and even mobile phones to take advantage of the players' video processing power. The BDP-105 takes this a step further by adding an asynchronous USB DAC input that supports the USB Audio 2.0 standard, along with additional coaxial and
optical digital inputs. Users can stream bit-perfect audio from their computer to the BDP-105 without worrying about the jitter performance of their computer's master clock thanks to the USB DAC's asynchronous clock mode.

The BDP-103 and BDP-105 are designed for user convenience and installation flexibility. Beyond the included back-lit remote control, the players can be controlled via its IR IN, RS-232 control ports, and mobile phone control apps. Users will appreciate the quick startup and fast disc loading performance of these players. Accented with a heavy gauge brushed aluminum front panel, dimmable display and a sturdy chassis, the players fit well with any home theater environment or sound system.

The suggested retail prices are $499 for the BDP-103 and $1199 for the BDP-105.
Although the exact launch date has not yet been set, OPPO expects to release the BDP-103 in October and the BDP-105 by the end of 2012. The players can be ordered directly from the OPPO Digital web site http://www.oppodigital.com or purchased through authorized resellers.








Subscribe to our RSS feed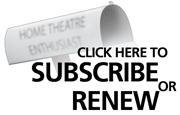 Reason #32 Why Readers Love Widescreen Review:
I read Widescreen Review as a way to dream. I think about the day I make it in life and how I will own only top of the line products featured in your magazine. I think about the parties and social functions at my house and how the centerpiece will be my entertainment system. Though at my current economic standing, it will take me years to be able to afford all the products I want without getting into credit debt, I still see no harm in reading about what will be mine.
Cameron David Martinez