BLU-RAY REVIEW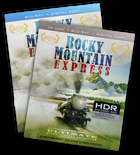 Rocky Mountain Express
Basic Information on new release titles is posted as soon as titles are announced. Once reviewed, additional data is added to the database.
(Studio/Distributor):
Shout! Factory
(Catalog Number):
SF 16837
(MPAA Rating):
Not Rated
(Rating Reason):
(Retail Price):
$$39.93
(Disc Type):
Single Side, Dual Layer (BD-50)
(Widescreen Edition):
Yes
(Full Screen Edition):
(Running Time In Minutes):
45
(Color Type):
Color With B/W Sequences
(Chaptered/Scene Access):
Yes
(Closed Captioned):
Yes
(Regional Coding):
A
(Theatrical Year):
(Theatrical Release):
Yes
(Direct-To-Video Release):
(Disc Release Date):
7/12/2016
(THX® Digitally Mastered):
(Director):
Stephen Low
(Screenplay/Written By):
(Story):
(Music):
(Director Of Photography):
(Production Designer):
(Visual Effects):
(Costume Designer):
(Editor):
(Supervising Sound Editors):
(Re-Recording Mixers):
(Executive Producers):
(Co-Producers):
(Producers):
(Academy Awards):
(Principal Photography):
(Theatrical Aspect Ratio):
(Measured Disc Aspect Ratio):
(Disc Soundtrack):
Dolby Atmos, Dolby TrueHD 7.1
(Theatrical Sound):
(Theatrical Re-Issue Soundtrack):
(DTS Bit Rate):
(Dolby Digital Bit Rate):
(Additional Languages):
(French Language):
(Spanish Language):
(Subtitles):
Rocky Mountain Express takes views on a steam train journey through the breathtaking vistas of the Canadian Rockies. This is an epic adventure of building the nation's first transcontinental railway. Retracing the original route aboard the majestic steam engine 2816, the film transports the audience back to the age of steam to re-live this alpine nation-building odyssey. The film weaves together spectacular aerial cinematography, breathtaking vistas of the west, archival photographs and maps, and the potent energy and rhythms of a live steam train. Viewers will be drawn in to discover some of the most beautiful and rugged landscapes on earth and the heroic human drama and epic engineering that shaped a continent. Included in the release is a 4K Ultra HD version. (Gary Reber)
Special features include Railroaders, a documentary by Guy Cote about the stretch of railroad featured in the film (HD 21:20), the Academy Award®-nominated animated short film from 1952 The Romance Of Transportation In Canada (HD 10:56), trailers, and a digital copy.
The 1.78:1 1080p AVC picture was filmed on authentic 15 per. 65mm negative, and originally exhibited in IMAX® theatres in 70mm on Kodak film stock. The picture is absolutely gorgeous, with unbelievably spectacular imagery of the Canadian Rockies, through which 2816 would be built. The imagery is breathtaking, enhanced with periodic artist renderings of the routes that would be built through mountain passages and tunnels. The color palette is wonderfully natural throughout, with nicely saturated earthy hues that are rich and warm. Fleshtones are perfectly hued and natural. The rendering of the restored and pristine 2816 steam engine is magnificent. Contrast is extremely well balanced with deep, solid blacks and incredibly revealing shadow delineation. Resolution is incredible as well, with fine details exhibited throughout, including nuanced features of the construction and workings of 2816. Puffs of white smoke are spectacular, as well as the intense white winter mountainous landscapes. This is one of the most gorgeous renderings of early man-made achievements and nature. This is an unforgettable visual experience and an absolute reference-quality presentation that every home theatre enthusiast should own. (Gary Reber)
The Dolby Atmos/Dolby TrueHD 7.1-channel soundtrack is absolutely wonderful, with a full-on Immersive Sound holosonic® presence that is extremely dynamic sounding. The sound of the 2816 engine is robust and absolutely realistic, with forceful, deep .1 LFE bass. The sound is wonderfully nuanced and transparent. This results in impressive realism. Directional surround and pans are exceptionally impressive, especially heard on full-range-channeled home theatre sound systems. The music score is a combination of a lush orchestral score with various pop and jazz sequences interspersed. Fidelity is excellent. The music occupies a wide and deep soundstage presence that extends to the surrounds aggressively. The Immersive Sound elements enhance the dimensional experience throughout the soundfield. Michael Hanrahan's narration is perfectly balanced against the other sonic elements. This is a truly exciting reference soundtrack experience that fully engages every channel and creates a magnificent holosonic Immersive Sound soundfield. (Gary Reber)