BLU-RAY REVIEW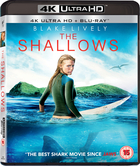 Shallows, The 4K UltraHD
Basic Information on new release titles is posted as soon as titles are announced. Once reviewed, additional data is added to the database.
(Studio/Distributor):
Sony Pictures Home Entertainment
(Catalog Number):
4339648145
(MPAA Rating):
PG-13
(Rating Reason):
Blood images, sequences of peril, and brief strong language.
(Retail Price):
$$26.99
(Disc Type):
BD-66
(Widescreen Edition):
Yes
(Full Screen Edition):
(Running Time In Minutes):
87
(Color Type):
Color
(Chaptered/Scene Access):
Yes
(Closed Captioned):
Yes
(Regional Coding):
A
(Theatrical Year):
(Theatrical Release):
Yes
(Direct-To-Video Release):
(Disc Release Date):
9/27/2016
(THX® Digitally Mastered):
(Director):
Jaume Collet-Serra
(Screenplay/Written By):
(Story):
(Music):
(Director Of Photography):
(Production Designer):
(Visual Effects):
(Costume Designer):
(Editor):
(Supervising Sound Editors):
(Re-Recording Mixers):
(Executive Producers):
(Co-Producers):
(Producers):
(Academy Awards):
(Principal Photography):
(Theatrical Aspect Ratio):
(Measured Disc Aspect Ratio):
(Disc Soundtrack):
Dolby Atmos, Dolby TrueHD 7.1
(Theatrical Sound):
(Theatrical Re-Issue Soundtrack):
(DTS Bit Rate):
(Dolby Digital Bit Rate):
(Additional Languages):
(Spanish Language):
(Subtitles):
Nancy, considering dropping out of medical school, visits an isolated Mexican beach her free-spirited mother took her to years ago. She surfs, reminisces, contemplates the future, and is knocked off her surfboard by a large aggressive territorial female great white shark. A dead whale, a corroding buoy, tides, and off-shore rocks both aid and abet her struggle to return safely from The Shallows to shore, just 200 yards away. (Doug Blackburn)
Special features include the featurettes Shooting In The Shallows (HD 05:57), as Director Jaume Collet-Serra, crew, and Blake Lively discuss the challenges and rewards of shooting in the waters off Lord Howe Island located in the Tasman Sea between Australia and New Zealand; How To Build A Shark (HD 06:56); Finding The Perfect Beach (HD 06:01); and When Sharks Attack (HD 07:34); three deleted scenes (HD 04:51); upfront previews; and an UltraViolet digital copy. Also available is the 4K UltraHD HDR version.
Shot on 4K Red Epic Dragon, 3.4K Arri Alexa, and 2K GoPro Hero cameras, a 2K 4:4:4 digital intermediate was created for mastering release formats. The images look very good for a 2K digital intermediate, but the resolution is clearly compromised compared to full 4K resolution. HDR enhances imagery considerably, making shots of sunbeams through dense forest vegetation nearly reference-quality for the brightness of the sun, while myriad shades of green, gray, and brown in the trees remain very clear and obvious. Shots on the beach of the bay on a beautifully clear day are spectacular, as are shots of the ocean surface, underwater, and sky, with weather ranging from clear to violently stormy. HDR provides the means to duplicate the sparkly character of brightly lit open water. Photography strives to appear natural, but some of the elements appear at least partially SFX, like an encounter with porpoises, the shark swimming in a wave, and some of the shots of the shark in the water from overhead, underwater, and trying to attack partially out of the water. The natural look of the images and the performance of HDR on this title may have some home theatre enthusiasts using parts of this movie as demonstration quality in spite of the less-than-4K resolution. (Doug Blackburn)
Released theatrically with Datasat and Dolby Digital sound, the UHD disc sound may actually be better than the sound heard in theatres. The mix is presented in Dolby TrueHD with Dolby Atmos enhancement. The regular surround mix is well executed but doesn't have the clarity and complexity of a reference-grade soundtrack. The music, for example, is well chosen, well recorded, and well played, but it doesn't have the pristine clarity and detail you find in the best mixes. Since this is a movie with a fair bit of isolation and is mostly shot in the outdoors, there is little variety in sonic environment. What is there, things like Nancy shouting over some distance to two other surfers, is handled well and seems quite true to how that would work and sound in real life. The content of the soundtrack for a movie like this just doesn't present a huge or complex job for the sound engineers and mixers.

The immersive sound is a repeat of other immersive soundtracks I've investigated, by turning off the "ear-level" channels so I can hear only what is happening in the height channels. Much of what appears in the height channels is music. Subtract the music, and most of what you hear in the height channels happens only during underwater shots or when a wave breaks nearby on the surface. At one point, overhead bird sounds appear in the height channels. But there is very little consistent or ongoing ambience in the height channels—the same issue I've had with every Atmos soundtrack so far. You get only "big" moments in the height channels (after subtracting the music). Sound can come and go very quickly in the height channels. For example, if a shot starts underwater, you hear bubbling water sounds in the height channels, but as soon as the person's head is above water, the height channels go silent. There's no sound from waves breaking in the distance or even from waves breaking nearby. There's nothing from the height channels when you would be capturing ambient sound from above if "real" height microphones had been used to capture ambient sound while shooting the movie. The whole immersive sound presentation sounds like another example of a simple and "un-manned" automated process to create an "Atmos soundtrack" that involves almost no work on the part of sound editors. When Atmos was introduced by Dolby, what was described about the format is nothing like what is being delivered on discs with Atmos soundtracks. We were given mental images of skilled sound engineer(s) carefully placing sounds in the height channels to increase the sense of immersion for every minute of the movie. Instead, we get long periods of silence in the height channels and very little ambient sound if you take the music track out of the equation. (Doug Blackburn)