BLU-RAY REVIEW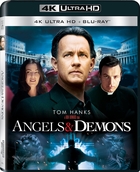 Angels & Demons
Basic Information on new release titles is posted as soon as titles are announced. Once reviewed, additional data is added to the database.
(Studio/Distributor):
Sony Pictures Home Entertainment
(Catalog Number):
NA
(MPAA Rating):
PG-13
(Rating Reason):
(Retail Price):
$$24.99
(Disc Type):
Single Side, Dual Layer (BD-50)
(Widescreen Edition):
Yes
(Full Screen Edition):
No
(Running Time In Minutes):
138
(Color Type):
Color
(Chaptered/Scene Access):
Yes
(Closed Captioned):
Yes
(Regional Coding):
A, B & C
(Theatrical Year):
2009
(Theatrical Release):
Yes
(Direct-To-Video Release):
No
(Disc Release Date):
10/11/2016
(THX® Digitally Mastered):
No
(Director):
Ron Howard
(Screenplay/Written By):
(Story):
(Music):
(Director Of Photography):
(Production Designer):
(Visual Effects):
(Costume Designer):
(Editor):
(Supervising Sound Editors):
(Re-Recording Mixers):
(Executive Producers):
(Co-Producers):
(Producers):
(Academy Awards):
(Principal Photography):
(Theatrical Aspect Ratio):
(Measured Disc Aspect Ratio):
(Disc Soundtrack):
Dolby Atmos, Dolby TrueHD 7.1
(Theatrical Sound):
(Theatrical Re-Issue Soundtrack):
(DTS Bit Rate):
(Dolby Digital Bit Rate):
(Additional Languages):
(French Language):
(Spanish Language):
(Chinese Language):
(Subtitles):
(Cantonese Language):
(Mandarin Language):
(Japanese Language):
(Italian Language):
(German Language):
(Portuguese Language):
In Ron Howardís thrilling follow-up to The Da Vinci Code, expert symbologist Robert Langdon (Hanks) follows ancient clues on a heart-racing hunt through Rome to find the four Cardinals kidnapped by the deadly secret society, the Illuminati. With the Cardinalsí lives on the line, and the Camerlengo (McGregor) desperate for help, Langdon embarks on a nonstop, action-packed race through sealed crypts, dangerous catacombs, and the most secretive vault on Earth. Based upon the novel Angels & Demons by Dan Brown. (Tricia Spears)
Special features on Disc One of this three-disc theatrical (HD 02:18:37) and extended edition (HD 02:26:15) of the film include Cinechat, previews, BD-Live interactivity, MovieIQ, and up-front ads. Special features on Disc Two include the following featurettes: Rome Was Not Built In A Day (HD 17:30), Writing Angels & Demons (HD 10:09), Characters In Search of The True Story (HD 17:10), Cern: Pushing The Frontiers Of Knowledge (HD 14:52), Handling Props (HD 11:35), Angels & Demons: The Full Story (HD 09:46), and This Is An Ambigram (HD 04:46). Also included is the "Path Of Illumination," where you are able to follow Robert Langdon's journey through Rome and unlock the hidden secrets of the Illuminati by selecting from five marked locations on the map. Once on the path, you will unearth in-depth historical facts, film clips, and behind-the-scenes footage. Disc Three includes a digital copy of the film and Hans Zimmer Music Studio Powered By Sequel 2. Also included is a 192-page Angels & Demons Illustrated Movie Companion book.
35mm film and RED One digital images were combined into a 4K digital intermediate. Images lack the pinpoint resolution of todayís high-res digital images of 4K or greater, but the UltraHD disc improves resolution over the HD Blu-ray disc by a modest amount. HDR improves apparent image detail even more, but it takes an extremely bright UHD/HDR video display (only available starting in Fall of 2016) to get the full benefit of these HDR images. Film grain is rarely detectable in these images, resulting in images that are clean and clear with an artistically smooth appearance you donít necessarily see in higher-res digital cinema images. Color is mostly natural, only deviating for dramatic effect in brief scenes. (Doug Blackburn)
The 7.1 sound from the Dolby Atmos/TrueHD soundtrack approaches the best sound quality available from conventional soundtracks. Music is very nicely rendered with appropriate atmospheric qualities and very good clarity. Sound editing matches screen action with great precision. Sound is appropriately directional when it should be. Ambience is done well, including in outdoor city scenes. The soundtrack has limited deep bass in the LFE channel, but that seems quite appropriate in light of the nature of the movie. This isnít a big action movie, it appropriately relies more on tension and mystery than cataclysm to tell the story. (Doug Blackburn)