BLU-RAY REVIEW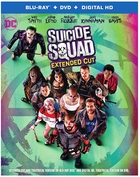 Suicide Squad Extended Cut 3D
Basic Information on new release titles is posted as soon as titles are announced. Once reviewed, additional data is added to the database.
(Studio/Distributor):
Warner Home Video
(Catalog Number):
3000070485
(MPAA Rating):
Not Rated/PG-13
(Rating Reason):
Sequences of violence and action throughout, disturbing behavior, suggestive content and language.
(Retail Price):
$$44.95
(Disc Type):
Single Side, Dual Layer (BD-50)
(Widescreen Edition):
Yes
(Full Screen Edition):
(Running Time In Minutes):
123/134
(Color Type):
Color
(Chaptered/Scene Access):
Yes
(Closed Captioned):
Yes
(Regional Coding):
A
(Theatrical Year):
(Theatrical Release):
Yes
(Direct-To-Video Release):
(Disc Release Date):
12/13/2016
(THX® Digitally Mastered):
(Director):
David Ayer
(Screenplay/Written By):
(Story):
(Music):
(Director Of Photography):
(Production Designer):
(Visual Effects):
(Costume Designer):
(Editor):
(Supervising Sound Editors):
(Re-Recording Mixers):
(Executive Producers):
(Co-Producers):
(Producers):
(Academy Awards):
(Principal Photography):
(Theatrical Aspect Ratio):
(Measured Disc Aspect Ratio):
(Disc Soundtrack):
Dolby Atmos, Dolby TrueHD 7.1
(Theatrical Sound):
(Theatrical Re-Issue Soundtrack):
(DTS Bit Rate):
(Dolby Digital Bit Rate):
(Additional Languages):
(French Language):
(Spanish Language):
(Subtitles):
In Suicide Squad, a secret government agency assembles a team of the world's most dangerous, incarcerated super-villains, provides them with the most powerful arsenal at the government's disposal, and sends them off on a mission to defeat an enigmatic, insuperable entity. U.S. intelligence officer Amanda Waller (Davis) has determined only a secretly convened group of disparate, despicable individuals with next to nothing to lose will do. However, once they realize they were picked to succeed but chosen for their patent culpability when they inevitably fail, will the Suicide Squad resolve to die trying or decide it's every man for himself? (Gary Reber)
Special features include seven featurettes; Task Force X One Team, One Mission (HD 23:08), Chasing The Real (HD 09:37), Joker & Harley: "It" Couple Of The Underworld (HD 14:29), Squad Strength And Speed (HD 09:03), Armed To The Teeth (HD 11:48), This Is Gonna Get Loud: The Epic Battles Of Suicide Squad (HD 10:54), and The Squad Declassified (HD 04:19); a gag reel (HD 02:04); upfront previews; and an UltraViolet digital copy.
The 2.40:1 1080p MVC 3D picture, while photographed on Kodak Vision3 film stock, was processed digitally to remove virtually all of the film grain. The appearance is impressively pristine. Note that the picture is extremely dark, even during daylight scenes with dark, overcast skies, and requires a display device capable of excellent black-level reproduction and a dark environment to fully appreciate the stylization. Black levels are excellent as well as shadow delineation. At times there are bursts of vibrancy, particularly in costumes, but generally the imagery is consistently dark. Still, fleshtones are reasonably natural. Resolution is excellent, with fine detail revealed, even though the darkness is prevalent. The 3D is an excellent conversion by Gener8, with remarkably excellent depth considering the overall darkness of the presentation. In this regard, the imagery appears natural in perspective as well. The visual effects are visually exciting, with excellent dimensionality and at times effectively out of screen, such as the subway incident and a helicopter moving ominously toward the viewer. The opening introduction of the characters and the closing character credits are quite creative in their 3D rendering. This is an effective 3D presentation that is sure to please fans. (Gary Reber)
The Dolby Atmos/Dolby TrueHD 7.1-channel soundtrack is dynamic, with a terrific music score of varied rock hits that nicely complement the action. Fidelity is excellent. Of course, the mayhem is sonically intense, with realistic atmospherics and sound effects in the form of gunfire, vehicular effects, explosions, and the resulting thunderous rubble and debris. Deep bass is strong and extends to 25 Hz at times in the .1 LFE channel. Overhead, at times, the sound effects deliver a far more immersive effect, especially during the scene with helicopters, but otherwise is very reserved considering the intensity of numerous scenes. Surround is dimensionally directionalized. Surprisingly, the added two surround channels are less active than expected. Dialogue is consistently intelligible throughout, with generally good spatial integration. Overall, this is an exciting and well-crafted holosonic® soundtrack that is sonically dimensionally and dynamic sounding. (Gary Reber)