BLU-RAY REVIEW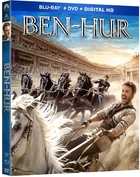 Ben Hur
Basic Information on new release titles is posted as soon as titles are announced. Once reviewed, additional data is added to the database.
(Studio/Distributor):
Paramount Home Entertainment
(Catalog Number):
2065512
(MPAA Rating):
PG-13
(Rating Reason):
Sequences of violence and disturbing images.
(Retail Price):
$$39.99
(Disc Type):
Single Side, Dual Layer (BD-50)
(Widescreen Edition):
Yes
(Full Screen Edition):
(Running Time In Minutes):
124
(Color Type):
Color
(Chaptered/Scene Access):
Yes
(Closed Captioned):
Yes
(Regional Coding):
A
(Theatrical Year):
(Theatrical Release):
Yes
(Direct-To-Video Release):
(Disc Release Date):
12/13/2016
(THX® Digitally Mastered):
(Director):
Timur Bekmambetov
(Screenplay/Written By):
(Story):
(Music):
(Director Of Photography):
(Production Designer):
(Visual Effects):
(Costume Designer):
(Editor):
(Supervising Sound Editors):
(Re-Recording Mixers):
(Executive Producers):
(Co-Producers):
(Producers):
(Academy Awards):
(Principal Photography):
(Theatrical Aspect Ratio):
(Measured Disc Aspect Ratio):
(Disc Soundtrack):
DTS HD Lossless 7.1
(Theatrical Sound):
(Theatrical Re-Issue Soundtrack):
(DTS Bit Rate):
(Dolby Digital Bit Rate):
(Additional Languages):
(Subtitles):
Ben-Hur is the epic story of Judah Ben-Hur (Huston), a prince falsely accused of treason by his adopted brother Messala (Kebbell), an officer in the Roman army. Stripped of his title, separated from his family and the woman he loves (Boniadi), Judah is forced into slavery. After years at sea, Judah returns to his homeland to seek revenge but finds redemption. Based on Lew Wallace's novel Ben-Hur: A Tale Of The Christ. (Gary Reber)
Special features include four featurettes: Ben-Hur: The Legacy (HD 10:37), The Epic Cast (HD 12:10), A Tale For Our Times (HD 15:25), and The Chariot Race (HD 10:37); seven deleted and extended scenes (HD 10:23); music videos from Andra Day; "For King and Country and Mar Mar" (HD 11:32); and an UltraViolet digital copy.
The 2.40:1 1080p picture was photographed digitally and exhibits a TVish presence, rather than the cinematic spectacle of its 1959 predecessor. The color palette at times appears dull and darkly saturated. The reds in Roman uniforms appear rather darkly hued with few bright highlights. The bright daylight in the horse training camp outside Jerusalem and the chariot race scene are nicely presented. Fleshtones are generally naturally hued and reflect environmental conditions, such as the life in Jerusalem versus the dark bowls of Roman ships at sea. Contrast is generally good, with deep blacks and revealing shadow delineation. Resolution is excellent, with fine detail apparent in facial features, hair, clothing and uniforms, and object textures, especially in close-ups. The at-sea scenes are perhaps the most spectacular, other than the chariot race. While picture quality is variable in presence, generally the experience is satisfying. (Gary Reber)
The DTS-HD Master Audio™ 7.1-channel soundtrack is at times effectively dynamic, with energized SPL levels and deep, powerful bass extension, heightened with .1 LFE boldness. Percussive sounds, such as the beat of the drum to set the pace of rowing, sound natural and impacted. The orchestral score, a powerful element in the feel of the storytelling, is spread wide and deep across the soundstage and extends at times aggressively to the surrounds. All four surrounds really thrust forth during the action sequences. Atmospherics, Foley, and sound effects are quite good and convey holosonic® realism when fully active and are surround enveloping. Dialogue is generally wanting in spatial integration with, at times, an out-of-balance forward presence. In moments, this is an exciting sound experience with excellent dynamics, bass extension, and enveloping soundstage imaging. (Gary Reber)