BLU-RAY REVIEW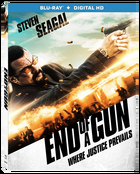 End Of A Gun
Basic Information on new release titles is posted as soon as titles are announced. Once reviewed, additional data is added to the database.
(Studio/Distributor):
Lionsgate Home Entertainment
(Catalog Number):
50498
(MPAA Rating):
R
(Rating Reason):
Violence, language, and brief sexuality.
(Retail Price):
$$19.99
(Disc Type):
Single Side, Dual Layer (BD-50)
(Widescreen Edition):
Yes
(Full Screen Edition):
(Running Time In Minutes):
89
(Color Type):
Color
(Chaptered/Scene Access):
Yes
(Closed Captioned):
Yes
(Regional Coding):
A
(Theatrical Year):
(Theatrical Release):
Yes
(Direct-To-Video Release):
(Disc Release Date):
12/13/2016
(THX® Digitally Mastered):
(Director):
Keoni Waxman
(Screenplay/Written By):
(Story):
(Music):
(Director Of Photography):
(Production Designer):
(Visual Effects):
(Costume Designer):
(Editor):
(Supervising Sound Editors):
(Re-Recording Mixers):
(Executive Producers):
(Co-Producers):
(Producers):
(Academy Awards):
(Principal Photography):
(Theatrical Aspect Ratio):
(Measured Disc Aspect Ratio):
(Disc Soundtrack):
DTS HD Lossless 5.1
(Theatrical Sound):
(Theatrical Re-Issue Soundtrack):
(DTS Bit Rate):
(Dolby Digital Bit Rate):
(Additional Languages):
(Subtitles):
In End Of A Gun, Steven Seagal plays Decker, an ex-DEA agent who takes deadly action one night to save the alluring Lisa (Ewen) and quickly finds himself chased by the cops, hit squads, and a sadistic drug lord when he goes on the run with her…and $2 million worth of drug money. (Gary Reber)
Special features include the trailer, upfront previews, and an UltraViolet digital copy.
The 1.78:1 1080p AVC picture was digitally photographed using the Red One camera system, but unlike leading-edge digital productions, the appearance is often digital. At times, though, the combination of production design and lighting results in a cinematic feel. The color palette is nicely balanced with saturated hues and primaries. Fleshtones are generally natural throughout. Contrast is decent, with good shadow delineation and deep blacks. Resolution is excellent, with fine object texture, facial and hair features, and clothing well defined. While low budget and variable in picture quality, the imagery is pleasing. (Gary Reber)
The DTS-HD Master Audio™ 5.1-channel soundtrack is monaural focused, though, the music score provides a pleasing sense of envelopment. Atmospherics and sound effects never expand beyond the front soundstage. Sound effects, such as gunfire and explosions, lack the heft of a typical thriller. Dialogue is intelligible throughout but at times is unnaturally forward. Overall, this is a mediocre soundtrack but not particularly distinguished. (Gary Reber)