BLU-RAY REVIEW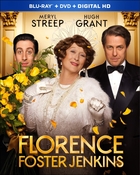 Florence Foster Jenkins
Basic Information on new release titles is posted as soon as titles are announced. Once reviewed, additional data is added to the database.
(Studio/Distributor):
Paramount Home Entertainment
(Catalog Number):
2063358
(MPAA Rating):
PG-13
(Rating Reason):
Brief suggestive material.
(Retail Price):
$$39.99
(Disc Type):
Single Side, Dual Layer (BD-50)
(Widescreen Edition):
Yes
(Full Screen Edition):
(Running Time In Minutes):
110
(Color Type):
Color
(Chaptered/Scene Access):
Yes
(Closed Captioned):
Yes
(Regional Coding):
A
(Theatrical Year):
(Theatrical Release):
Yes
(Direct-To-Video Release):
(Disc Release Date):
12/13/2016
(THX® Digitally Mastered):
(Director):
Stephen Frears
(Screenplay/Written By):
(Story):
(Music):
(Director Of Photography):
(Production Designer):
(Visual Effects):
(Costume Designer):
(Editor):
(Supervising Sound Editors):
(Re-Recording Mixers):
(Executive Producers):
(Co-Producers):
(Producers):
(Academy Awards):
(Principal Photography):
(Theatrical Aspect Ratio):
(Measured Disc Aspect Ratio):
(Disc Soundtrack):
DTS HD Lossless 5.1
(Theatrical Sound):
(Theatrical Re-Issue Soundtrack):
(DTS Bit Rate):
(Dolby Digital Bit Rate):
(Additional Languages):
(Subtitles):
Based on the incredible true story, Florence Foster Jenkins (Streep) is a New York socialite who dreams of becoming a great opera singer. While the voice she hears in her head is beautiful, to everyone else it is hilariously awful. Her husband and biggest fan, St. Clair Bayfield (Grant) is determined to protect his beloved Florence from the truth. But when Florence stages a huge concert at Carnegie Hall, he faces his greatest challenge, to make sure her performance hits all the right notes. (Gary Reber)
Special features include the featurettes Ours Is A Happy World (HD 05:01), The Music And Songs Of Florence (HD 04:01), Designing The Look (HD 03:43), and Live At Carnegie Hall (HD 10:09); a Q&A With Meryl Streep (HD 16:06); four deleted scenes (HD 06:08); the Florence Foster Jenkins world premiere (HD 01:58); and an UltraViolet digital copy.
The 2.38:1 1080p AVC picture is superb, with a warmly saturated color palette. Hues are vivid and richly rendered. The production design is wonderful, with a sheen of "makeup," which perfectly complements the warmth of the palette. Primaries are strong with fine accents. The production is extremely intricate in textures. Contrast is well balanced with deep, solid blacks and revealing shadow delineation. While interior focused, the street scenes, night scenes, and exterior daylight scenes are naturally realistic. Resolution is excellent. Facial features and even makeup is finely nuanced, with fine detail evident in hair, clothing, and all manner of object textures, furnishings, and decor. This is a really great-looking picture with engaging set pieces that is sure to please. (Gary Reber)
The DTS-HD Master Audio™ 5.1-channel soundtrack is nicely produced with nuanced atmospherics, Foley, and music. The music, featuring piano, but also orchestral and swing, is well recorded with an excellent soundstage presence and, at times, extension to the surrounds. The music is the sound element that provides surround envelopment, with occasional sound effects, such as cars and street sounds. Deep bass sounds natural and enhances the exterior scenes, especially the street traffic. Dialogue is consistently intelligible, and Meryl Streep's voicings are humorously presented. This is a fun soundtrack that perfectly complements this likable story. (Gary Reber)