BLU-RAY REVIEW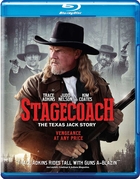 Stagecoach: The Texas Jack Story
Basic Information on new release titles is posted as soon as titles are announced. Once reviewed, additional data is added to the database.
(Studio/Distributor):
Cinedigm
(Catalog Number):
SU5189
(MPAA Rating):
Not Rated
(Rating Reason):
(Retail Price):
$$19.95
(Disc Type):
Single Side, Dual Layer (BD-50)
(Widescreen Edition):
Yes
(Full Screen Edition):
(Running Time In Minutes):
90
(Color Type):
Color
(Chaptered/Scene Access):
Yes
(Closed Captioned):
Yes
(Regional Coding):
A
(Theatrical Year):
(Theatrical Release):
Yes
(Direct-To-Video Release):
(Disc Release Date):
12/13/2016
(THX® Digitally Mastered):
(Director):
Terry Miles
(Screenplay/Written By):
(Story):
(Music):
(Director Of Photography):
(Production Designer):
(Visual Effects):
(Costume Designer):
(Editor):
(Supervising Sound Editors):
(Re-Recording Mixers):
(Executive Producers):
(Co-Producers):
(Producers):
(Academy Awards):
(Principal Photography):
(Theatrical Aspect Ratio):
(Measured Disc Aspect Ratio):
(Disc Soundtrack):
DTS HD Lossless 5.1
(Theatrical Sound):
(Theatrical Re-Issue Soundtrack):
(DTS Bit Rate):
(Dolby Digital Bit Rate):
(Additional Languages):
(Subtitles):
Stagecoach: The Texas Jack Story is a period Western loosely based on the real-life exploits of 19th century American outlaw Nathaniel Reed. After retiring from his life as an infamous outlaw, livery owner Nathaniel (Adkins) quietly leads an honest existence on the Texas frontier with his devoted wife, Laura Lee. But his gunslinging past suddenly comes back to haunt him when he learns that Calhoun (Coates), the man he once maimed during a stagecoach robbery, is now an unhinged U.S. Marshal who'll stop at nothing to exact vengeance. After a violent shootout rings tragic consequences, Nathaniel partners with his original gang, returns to his lawless ways, and becomes Texas Jack: the most wanted outlaw in the West. (Gary Reber)
Special features include a behind-the-scenes featurette (HD 17:52) and the theatrical trailer.
The 2.37:1 1080p AVC picture exhibits a natural appearance, with an earthy color palette depicting a rural, woodsy backdrop. Forest greens and browns are predominant, with gray- and black-dominant clothes in contrast. The environs are not exactly what is typical of Western backdrops, with the forested backdrop, but everything looks natural. Fleshtones are naturally rendered as well. Resolution is good, and fine detail is evident in close-ups of facial features, hair, clothing, and objects, such as stagecoaches. Overall, the imagery is pristine and pleasingly realistic. (Gary Reber)
The DTS-HD Master Audio™ 5.1-channel soundtrack is generally good, with realistic atmospherics, such as galloping horses. Gunfire also sounds natural, sans the normal bass boost in other productions. Atmospherics at times provide an immersive surround experience. The music score provides a suitable background and extends to the surrounds but as a duplicate of the front channels and at a far lower level. Bass extension occurs in some of the action scenes. Dialogue does not fair as well, as it sounds unnaturally forward, with poor spatial integration. Overall, this is a mediocre soundtrack. (Gary Reber)