BLU-RAY REVIEW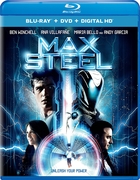 Max Steel
Basic Information on new release titles is posted as soon as titles are announced. Once reviewed, additional data is added to the database.
(Studio/Distributor):
Universal Studios Home Entertainment
(Catalog Number):
55184453
(MPAA Rating):
PG-13
(Rating Reason):
Some sci-fi action violence.
(Retail Price):
$$29.99
(Disc Type):
Single Side, Dual Layer (BD-50)
(Widescreen Edition):
Yes
(Full Screen Edition):
(Running Time In Minutes):
93
(Color Type):
Color
(Chaptered/Scene Access):
Yes
(Closed Captioned):
Yes
(Regional Coding):
A
(Theatrical Year):
(Theatrical Release):
Yes
(Direct-To-Video Release):
(Disc Release Date):
1/10/2017
(THX® Digitally Mastered):
(Director):
Stewart Hendler
(Screenplay/Written By):
(Story):
(Music):
(Director Of Photography):
(Production Designer):
(Visual Effects):
(Costume Designer):
(Editor):
(Supervising Sound Editors):
(Re-Recording Mixers):
(Executive Producers):
(Co-Producers):
(Producers):
(Academy Awards):
(Principal Photography):
(Theatrical Aspect Ratio):
(Measured Disc Aspect Ratio):
(Disc Soundtrack):
DTS HD Lossless 5.1
(Theatrical Sound):
(Theatrical Re-Issue Soundtrack):
(DTS Bit Rate):
(Dolby Digital Bit Rate):
(Additional Languages):
(Subtitles):
Max Steel follows 16-year-old Max McGrath (Winchell) who is just trying to fit in at his new school when he discovers that his body can generate a mysterious energy. When he meets Steel (Brener)––a rebellious techno-organic alien who has been secretly watching him––these two unlikely friends find themselves hunted and must band together to form the superhero Max Steel to stop the sinister forces who want to control Max's power. (Gary Reber)
Special features include four featurettes: Finding Max (HD 04:24), Imagining Steel (HD 03:37), Building The Suits (HD 03:05) and Behind The Stunts (HD 03:00); upfront previews; and an UltraViolet digital copy.
The 2.39:1 1080p AVC picture is digitally sourced and is rather mediocre compared to other superhero productions. The color palette is generally neutral with no particular hues exaggerated. Fleshtones are naturally hued. At times there is a bluish tint to the imagery. Contrast is decent, with acceptable black levels and revealing shadow delineation. Resolution is decent as well but not remarkable, even during close-ups. Overall, this is an unimpressive picture for a Marvel superhero production, but still fans will become engaged, especially as the story progresses and the visual effects heighten the excitement. (Gary Reber)
The DTS-HD Master Audio™ 5.1-channel soundtrack delivers an aggressively directionalized enveloping soundfield during intense action sequences. This is enhanced with powerful .1 LFE bass that extends to sub-25-Hz frequencies. During such sequences, the sound is effectively dynamic. The orchestral score further intensifies the soundfield envelopment with a wide and deep soundstage and surround reach. All this intensity occurs in the second half of the story. The first half is rather ordinary, with a focus on dialogue, with Max returning to his family home and entering a new high school. But once his power begins to mature, then the soundfield is fully engaged holosonically, with all the sound elements engaged. Atmospherics are effectively realistic whether in the quieter scenes or in the thunderous action sequences. Dialogue manages to stay intelligible, with generally good spatial integration. This is a sonically engaging sonic experience that will please fans. (Gary Reber)