BLU-RAY REVIEW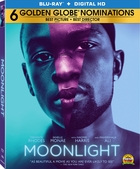 Moonlight
Basic Information on new release titles is posted as soon as titles are announced. Once reviewed, additional data is added to the database.
(Studio/Distributor):
Lionsgate Home Entertainment
(Catalog Number):
51065
(MPAA Rating):
R
(Rating Reason):
Some sexuality, drug use, brief violence and language throughout.
(Retail Price):
$$24.99
(Disc Type):
Single Side, Dual Layer (BD-50)
(Widescreen Edition):
Yes
(Full Screen Edition):
(Running Time In Minutes):
111
(Color Type):
Color
(Chaptered/Scene Access):
Yes
(Closed Captioned):
Yes
(Regional Coding):
A
(Theatrical Year):
(Theatrical Release):
Yes
(Direct-To-Video Release):
(Disc Release Date):
2/28/2017
(THX® Digitally Mastered):
(Director):
Barry Jenkins
(Screenplay/Written By):
(Story):
(Music):
(Director Of Photography):
(Production Designer):
(Visual Effects):
(Costume Designer):
(Editor):
(Supervising Sound Editors):
(Re-Recording Mixers):
(Executive Producers):
(Co-Producers):
(Producers):
(Academy Awards):
(Principal Photography):
(Theatrical Aspect Ratio):
(Measured Disc Aspect Ratio):
(Disc Soundtrack):
DTS HD Lossless 5.1
(Theatrical Sound):
(Theatrical Re-Issue Soundtrack):
(DTS Bit Rate):
(Dolby Digital Bit Rate):
(Additional Languages):
(Subtitles):
Moonlight won the Academy Award® for Best Picture of 2017 and was nominated for eight Academy Awards. The film chronicles the life of Chiron (Sanders), a boy growing up in a rough neighborhood of Miami, Florida. At once a vital portrait of contemporary African American life and an intensely personal and poetic meditation on identity, family, friendship and love, the film has been praised as a groundbreaking piece of cinema that reverberates with deep compassion and universal truths. The story chronicles the life of a young black man from childhood to adulthood as he struggles to find his place in the world while growing up. This is a profoundly moving portrayal of the moments, people, and unknowable forces that shape our lives and make us who we are. (Gary Reber)
Special features include commentary with Director Barry Jenkins, the featurettes Ensemble Of Emotion (HD 21:37), Poetry Through Collaboration: The Music (HD 10:06), and Cruel Beauty: Filming In Miami (HD 05:39), trailers, upfront previews, and an UltraViolet digital copy.
The 2.38:1 1080p AVC picture was photographed digitally with the Arri Alexa XT Plus camera system and in Hawk Scope. The imagery exhibits a raw, natural appearance using a "jiggly" hand-held camera to capture the visual realism of Chiron's environment. The color palette is naturally saturated and natural. No hue is exaggerated. Fleshtones are perfectly natural throughout, in both bright and darker scenes. Contrast is satisfactory with decent shadow delineation and good black levels. Slight noise is apparent in the darkest scenes. Resolution is decent with generally good detail, especially during close-ups. Overall, while a low budget digital production, the image quality is satisfying and effectively dramatic in support of the story. (Gary Reber)
The DTS-HD Master Audio™ .5.1-channel soundtrack is dialogue focused and generally reserved, with the exception of at times a dynamic music score with unusual harmonic structures. The music occupies the frontal soundstage and extends to the surrounds, at times aggressively. Atmospherics are centered with minimal subtle surround. Dialogue is the major sound element and is decently integrated spatially, though, at times a bit muffled and forward. Overall, this is a workable soundtrack that satisfies the needs of the story. (Gary Reber)