BLU-RAY REVIEW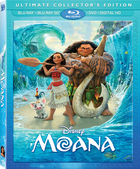 Moana 3D
Basic Information on new release titles is posted as soon as titles are announced. Once reviewed, additional data is added to the database.
(Studio/Distributor):
Walt Disney Home Entertainment
(Catalog Number):
143274A
(MPAA Rating):
PG
(Rating Reason):
Peril, some scary images and brief thematic elements.
(Retail Price):
$$29.99
(Disc Type):
Single Side, Dual Layer (BD-50)
(Widescreen Edition):
Yes
(Full Screen Edition):
(Running Time In Minutes):
90
(Color Type):
Color
(Chaptered/Scene Access):
Yes
(Closed Captioned):
Yes
(Regional Coding):
A, B & C
(Theatrical Year):
(Theatrical Release):
Yes
(Direct-To-Video Release):
(Disc Release Date):
3/7/2017
(THX® Digitally Mastered):
(Director):
Ron Clements & John Musker
(Screenplay/Written By):
(Story):
(Music):
(Director Of Photography):
(Production Designer):
(Visual Effects):
(Costume Designer):
(Editor):
(Supervising Sound Editors):
(Re-Recording Mixers):
(Executive Producers):
(Co-Producers):
(Producers):
(Academy Awards):
(Principal Photography):
(Theatrical Aspect Ratio):
(Measured Disc Aspect Ratio):
(Disc Soundtrack):
DTS HD Lossless 7.1
(Theatrical Sound):
(Theatrical Re-Issue Soundtrack):
(DTS Bit Rate):
(Dolby Digital Bit Rate):
(Additional Languages):
(Subtitles):
Moana is the story of a brave and tenaciously spirited teenager who sets sail in a daring epic adventure to save her people. Moana's quest to become a wayfinder serves as a journey of self-discovery, empowering her to find her own identity––a beautiful and powerful message for audiences of all ages and genders. (Gary Reber)
Special features include commentary with Directors Ron Clements and John Musker; the theatrical short film: Inner Workings (HD 02:29); the Maui mini-movie: Gone Fishing (HD 06:26); Fishing For Easter Eggs (HD 02:52); The Elements Of Mini Maui, Water, Lava and Hair mini-documentaries (HD 14:14); four featurettes: Voice Of The Islands (HD 05:13), Things You Didn't Know About (HD 02:02), Island Fashion (HD 05:13), and They Know The Way: Making The Music Of Moana (HD 12:37); 14 deleted scenes (HD 25:56); a deleted song: "Warrior Face" (HD 03:41); the music video How Far I'll Go performed by Alessia Cara (HD 03:04); upfront previews; and a digital copy.
The 2.38:1 1080p MVC 3D picture is one of the most fantastic 3D animations ever! Spatial dimensionality is incredible with wonderful depth, perspective, and volume depicting environments, objects, and characters. The relationship of characters to their surroundings is constantly in motion, establishing realistic dimensional depth. The imagery itself is beautiful with a richly vivid color palette and wonderfully natural islander fleshtones, animated, of course. Other colors exhibit earthy hues such as mountains, trees and sand. The ocean is depicted in shades of blue and green. Other hues are extremely colorful pastels and brilliant primaries that pop. Contrast is superb with deep, solid blacks and excellent shadow delineation. Resolution is spectacular with fine detail revealed in all sorts of textures, native dress, ornaments, hair and creatures. This is 3D at its absolute best! Reference quality throughout with pristine imagery. (Gary Reber)
The DTS-HD Master Audio™ 7.1-channel soundtrack is impressively dynamic, frequently energizing every channel. The music score is wonderful. The music spans the soundstage and aggressively extends to the surrounds. The added two channels enhance the sense of spatial dimensionality with effective directionalized sound effects. The sounds of an agitated ocean are powerful, with deep bass extension to sub-25 Hz frequencies. Other sound effects generate exciting sonic impact throughout. Atmospherics also are impressively realistic. Dialogue is perfectly intelligible, with an excellent sense of spatial integration. Fidelity is excellent throughout. This is a spectacular holosonic® soundtrack experience, with a huge immersive dimensional soundfield. Reference quality throughout. (Gary Reber)