BLU-RAY REVIEW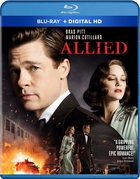 Allied
Basic Information on new release titles is posted as soon as titles are announced. Once reviewed, additional data is added to the database.
(Studio/Distributor):
Paramount Home Entertainment
(Catalog Number):
2070167
(MPAA Rating):
R
(Rating Reason):
Violence, some sexuality/nudity, language and brief drug use.
(Retail Price):
$$27.99
(Disc Type):
Single Side, Dual Layer (BD-50)
(Widescreen Edition):
Yes
(Full Screen Edition):
(Running Time In Minutes):
124
(Color Type):
Color
(Chaptered/Scene Access):
Yes
(Closed Captioned):
Yes
(Regional Coding):
A
(Theatrical Year):
(Theatrical Release):
Yes
(Direct-To-Video Release):
(Disc Release Date):
2/28/2017
(THX® Digitally Mastered):
(Director):
Robert Zemeckis
(Screenplay/Written By):
(Story):
(Music):
(Director Of Photography):
(Production Designer):
(Visual Effects):
(Costume Designer):
(Editor):
(Supervising Sound Editors):
(Re-Recording Mixers):
(Executive Producers):
(Co-Producers):
(Producers):
(Academy Awards):
(Principal Photography):
(Theatrical Aspect Ratio):
(Measured Disc Aspect Ratio):
(Disc Soundtrack):
DTS HD Lossless 5.1
(Theatrical Sound):
(Theatrical Re-Issue Soundtrack):
(DTS Bit Rate):
(Dolby Digital Bit Rate):
(Additional Languages):
(Subtitles):
In Allied, Max Vatan (Pitt) and Marianne Beauséjour (Cotillard) are two of the world's deadliest spies, who fall in love while undercover on a top-secret mission and marry during World War II. When Max learns his wife may be secretly conspiring with the enemy, he has only 82 hours to prove her innocence and save his family before he must do the unthinkable. Also available in a 4K Ultra HD version. (Gary Reber)
Special features include 10 featurettes: Story Of Allied (HD 05:13), From States To The Sahara: The Production Design Of Allied (HD 10:10), Through The Lens: Directing With Robert Zemeckis (HD 08:49), A Stitch In Time: The Costumes Of Allied (HD 08:40), 'Till Death Do Us Part: Max And Marianne (HD 05:52), Guys And Gals: The Ensemble Cast (HD 05:22), Lights, Pixels, ACTION!: The Visual Effects Of Allied (HD 09:33), Behind The Wheel: The Vehicles Of Allied (HD 03:30), Locked And Loaded: The Weapons Of Allied (HD 03:35) and That Swingin' Sound: The Music Of Allied (HD 07:06); and an UltraViolet digital copy.
The 2.40:1 1080p AVC picture quality is terrific, with an incredibly realistic production design as well as costume design. The picture was photographed at high-resolution 6K and 8K and mastered at 4K. The imagery on this HD version is cinematic throughout, whether in the Morrocan desert, the German-occupied Morroco, or London. Set design and period design is intricate with great attention to detail. The color palette is perfectly balanced with natural hues that exhibit lifelike richness and warmth. Fleshtones are perfectly natural as well. Resolution is finely resolved throughout, with fine detail exhibited in facial features, hair, clothing, and object texture, especially during close-ups. Such resolution and meticulous production and costume design create complete realism. Contrast also is well balanced with deep black and revealing shadow delineation. Th imagery is pristine throughout as well. This is a wonderful period piece whose imagery is beautiful and reference quality throughout. (Gary Reber)
The DTS-HD Master Audio™ 5.1-channel soundtrack is dynamic and natural sounding. Nuanced atmospherics really enhance the realism, as well as excellent Foley sound effects. Sound effects, such as gunfire and explosions, especially the German air raids over London, are completely realistic. Surround envelopment is also very effective with at times an aggressive presence with directonalization. Rain at an airfield is effectively realistic and envelops the soundfield. Aggressive bombing runs and anti-aircraft fire place the listener in the mayhem. The music score is great and perfectly supportive of the storytelling. It is both dramatic and swinging, as in the music of the 1943 Benny Goodman band during a party scene. In the orchestral dramatic segments, deep bass is energized in the .1 LFE channel. Dialogue is generally well integrated spatially, but at times the dialogue is a bit muffled and unintelligible. Overall, this is a wonderful soundtrack with holosonic® elements that are satisfying throughout. (Gary Reber)