BLU-RAY REVIEW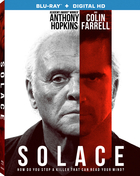 Solace
Basic Information on new release titles is posted as soon as titles are announced. Once reviewed, additional data is added to the database.
(Studio/Distributor):
Lionsgate Home Entertainment
(Catalog Number):
51669
(MPAA Rating):
R
(Rating Reason):
Violence and bloody images throughout, sexuality, nudity and language.
(Retail Price):
$$24.99
(Disc Type):
Single Side, Dual Layer (BD-50)
(Widescreen Edition):
Yes
(Full Screen Edition):
(Running Time In Minutes):
102
(Color Type):
Color
(Chaptered/Scene Access):
Yes
(Closed Captioned):
Yes
(Regional Coding):
A
(Theatrical Year):
(Theatrical Release):
Yes
(Direct-To-Video Release):
(Disc Release Date):
3/14/2017
(THX® Digitally Mastered):
(Director):
Afonso Poyart
(Screenplay/Written By):
(Story):
(Music):
(Director Of Photography):
(Production Designer):
(Visual Effects):
(Costume Designer):
(Editor):
(Supervising Sound Editors):
(Re-Recording Mixers):
(Executive Producers):
(Co-Producers):
(Producers):
(Academy Awards):
(Principal Photography):
(Theatrical Aspect Ratio):
(Measured Disc Aspect Ratio):
(Disc Soundtrack):
DTS HD Lossless 5.1
(Theatrical Sound):
(Theatrical Re-Issue Soundtrack):
(DTS Bit Rate):
(Dolby Digital Bit Rate):
(Additional Languages):
(Subtitles):
In Solace, Dr. John Clancy (Hopkins) returns from retirement to assist the FBI in solving a series of homicides. He gets far more than the expected when he confronts the elusive murderer (Farrell). (Gary Reber)
Special features include commentary with Director Afonso Poyart, the featurette Visions And Voices: The Making Of Solace (HD 08:40), a trailer, upfront previews, and an UltraViolet digital copy.
The 2.41:1 1080p AVC picture quality is excellent, with natural realism within an urban setting. The color palette is naturally hued, and in certain segments boldly saturated, as in reds and in a field of green grass and flowers. Contrast is well balanced with deep, solid blacks and revealing shadow delineation. Fleshtones are accurately rendered. Resolution is excellent, with fine detail exhibited throughout, especially during close-ups. This is a satisfying visual experience. (Gary Reber)
The DTS-HD Master Audio™ 5.1-channel soundtrack dialogue is focused with atmospherics that nicely define the settings and locations. Atmospherics and sound effects are rather frontal focused, occupying the frontal soundstage. Car crashes, gunfire, and trains are realistic enough and at times spiked with deep bass in the .1 LFE channel. The orchestral/choral score is effective and provides at times an aggressive surround presence and deep bass. The music permeates the soundtrack and sets the emotional context and mood, which enhances the suspense. Dialogue is consistently intelligible and natural, with good spatial integration. Overall, this is a well-crafted soundtrack that builds with dynamics and aggressive surround envelopment that is directionalized and holosonic®. (Gary Reber)