BLU-RAY REVIEW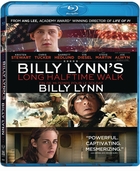 Billy Lynn's Long Halftime Walk 3D
Basic Information on new release titles is posted as soon as titles are announced. Once reviewed, additional data is added to the database.
(Studio/Distributor):
Sony Pictures Home Entertainment
(Catalog Number):
47417LIT
(MPAA Rating):
R
(Rating Reason):
Language throughout, some war violence, sexual content and brief drug use.
(Retail Price):
$$27.99
(Disc Type):
Single Side, Dual Layer (BD-50)
(Widescreen Edition):
Yes
(Full Screen Edition):
(Running Time In Minutes):
113
(Color Type):
Color
(Chaptered/Scene Access):
Yes
(Closed Captioned):
Yes
(Regional Coding):
A B & C
(Theatrical Year):
(Theatrical Release):
Yes
(Direct-To-Video Release):
(Disc Release Date):
2/14/2017
(THX® Digitally Mastered):
(Director):
Ang Lee
(Screenplay/Written By):
(Story):
(Music):
(Director Of Photography):
(Production Designer):
(Visual Effects):
(Costume Designer):
(Editor):
(Supervising Sound Editors):
(Re-Recording Mixers):
(Executive Producers):
(Co-Producers):
(Producers):
(Academy Awards):
(Principal Photography):
(Theatrical Aspect Ratio):
(Measured Disc Aspect Ratio):
(Disc Soundtrack):
DTS HD Lossless 5.1
(Theatrical Sound):
(Theatrical Re-Issue Soundtrack):
(DTS Bit Rate):
(Dolby Digital Bit Rate):
(Additional Languages):
(Subtitles):
Based on the novel, Billy Lynn's Long Halftime Walk follows Billy Lynn (Alwyn), a 19-year-old soldier, as he is temporarily brought home for a victory tour after a harrowing battle in Iraq, with his fellow soldiers in Bravo Squad. Through flashbacks, the movie shows what really happened to his squad––contrasting the realities of war with America's distorted perceptions of heroism. (Gary Reber)
Special features include four featurettes: Into Battle And Onto The Field, Re-creating The Halftime Show, The Brotherhood Of Combat, and Assembling A Cast; deleted scenes; and an UltraViolet digital copy.
The 1.85:1 1080p MVC 3D systems and technology was provided by Stereotec, with Demetri Portelli serving as stenographer. Natively photographed using the Sony CineAlta F65 digital camera system and Real D True Image and True Motion 3D technology. The picture exhibits natural depth and perspective for a good, naturally dimensional viewing experience. But the color palette is unnaturally hued and distracts from what should come across as realism. Especially unrealistic are fleshtones, which appear unnaturally hued. Interiors are seemingly dim in character. Perhaps Director Lee was aiming for a documentary feel? Contrast is not always satisfying nor particularly stellar. Resolution is rather soft throughout, no doubt due to the generally dim nature of the imagery, but close-ups reveal finer detail. During the brighter segments, detail is far better revealing, but still not stellar. Blacks and deep blues are solid, and during brighter segments colors are nicely saturated. While the 3D is effectively satisfying, the overall impression is less satisfying due to the otherwise often unnatural color treatment. Overall, this is not an impressive visual experience, as the picture quality is not consistent. (Gary Reber)
The DTS-HD Master Audio™ 5.1-channel soundtrack is highly dialogue focused with supporting segments of aggressive surround ambiance that ignites the soundfield. This includes large football stadium audience sounds and segments of battle engagement. Dialogue is generally well integrated spatially and natural sounding throughout. Sound effects at times are engagingly dynamic, with energy directionalized throughout the soundfield. Bass extension is limited but effective when engaged, as in the halftime show and in the intense battle scene in Iraq. The music score is rather subdued, except for the halftime music presentation in the background, but nicely recorded. Overall, this is for the most part not a stellar sonic experience, though, there are scenes that deliver an aggressive holosonic® experience. (Gary Reber)