BLU-RAY REVIEW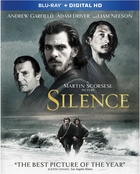 Silence
Basic Information on new release titles is posted as soon as titles are announced. Once reviewed, additional data is added to the database.
(Studio/Distributor):
Paramount Home Entertainment
(Catalog Number):
2071077
(MPAA Rating):
R
(Rating Reason):
Some disturbing violent content.
(Retail Price):
$$39.99
(Disc Type):
Single Side, Dual Layer (BD-50)
(Widescreen Edition):
Yes
(Full Screen Edition):
(Running Time In Minutes):
160
(Color Type):
Color
(Chaptered/Scene Access):
Yes
(Closed Captioned):
Yes
(Regional Coding):
A
(Theatrical Year):
(Theatrical Release):
Yes
(Direct-To-Video Release):
(Disc Release Date):
3/28/2017
(THX® Digitally Mastered):
(Director):
Martin Scorsese
(Screenplay/Written By):
(Story):
(Music):
(Director Of Photography):
(Production Designer):
(Visual Effects):
(Costume Designer):
(Editor):
(Supervising Sound Editors):
(Re-Recording Mixers):
(Executive Producers):
(Co-Producers):
(Producers):
(Academy Awards):
(Principal Photography):
(Theatrical Aspect Ratio):
(Measured Disc Aspect Ratio):
(Disc Soundtrack):
DTS HD Lossless 5.1
(Theatrical Sound):
(Theatrical Re-Issue Soundtrack):
(DTS Bit Rate):
(Dolby Digital Bit Rate):
(Additional Languages):
(Subtitles):
Based on the novel by Shusaku Endo, Silence is an entrancing epic in which two Christian missionaries (Driver and Garfield) travel to Japan in search of their missing mentor (Neeson) at a time when Christianity was outlawed. When they are captured and imprisoned, both men are plunged into an odyssey that will test their faith, challenge their sanity and, perhaps, risk their very lives. (Gary Reber)
Special features include the featurette Martin Scorsese's Journey Into Silence (HD 24:30) and an UltraViolet digital copy.
The 2.38:1 1080p AVC picture is cinematic with wonderful cinematography. The imagery exhibits a warm, dense color palette with rich earthy hues. Forest greens and browns, and rocks and ocean, along with mud or leaf-covered earth are appear perfectly natural. The natural scenery is spectacular throughout, dotted with Japanese villages and thatched structures. Fleshtones are naturally hued, even with dirt-covered flesh. Contrast is excellent with deep blacks and shadows that reveal a sense of depth. Resolution is quite good and revealing, which enhances the sense of realism. The imagery is gloriously photographed and visually stunning. (Gary Reber)
The DTS-HD Master Audio™ 5.1-channel soundtrack is strangely incomplete in that the visuals suggest holosonic® envelopment that never materializes. The surrounds, for the most part of the movie, are so subtle as to not be there at all. Of course, there are segments in the more developed settlements, such as the parade entrance of one of the missionaries on his way to a prison, in which the surrounds are briefly energized to project a dimensional soundfield. Otherwise, the focus is monaural or stereo at best. There is virtually no music score to speak of during the entire movie. Dialogue is intelligible, along with English subtitles when Japanese is spoken. And spatial integration is decent. Brief moments of deep bass occur at times, but then, less powerful, as would be expected. Overall, this is a less-than-fully-satisfying sonic experience due to so much neglected opportunity to be fully holosonic. (Gary Reber)