BLU-RAY REVIEW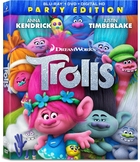 Trolls
Basic Information on new release titles is posted as soon as titles are announced. Once reviewed, additional data is added to the database.
(Studio/Distributor):
Fox/DreamWorks Animation
(Catalog Number):
D104891
(MPAA Rating):
PG
(Rating Reason):
Some mild rude humor.
(Retail Price):
$$27.97
(Disc Type):
Single Side, Dual Layer (BD-50)
(Widescreen Edition):
Yes
(Full Screen Edition):
(Running Time In Minutes):
92
(Color Type):
Color
(Chaptered/Scene Access):
Yes
(Closed Captioned):
Yes
(Regional Coding):
A
(Theatrical Year):
(Theatrical Release):
Yes
(Direct-To-Video Release):
(Disc Release Date):
3/7/2017
(THX® Digitally Mastered):
(Director):
Mike Mitchell & Walt Dohrn
(Screenplay/Written By):
(Story):
(Music):
(Director Of Photography):
(Production Designer):
(Visual Effects):
(Costume Designer):
(Editor):
(Supervising Sound Editors):
(Re-Recording Mixers):
(Executive Producers):
(Co-Producers):
(Producers):
(Academy Awards):
(Principal Photography):
(Theatrical Aspect Ratio):
(Measured Disc Aspect Ratio):
(Disc Soundtrack):
DTS HD Lossless 7.1
(Theatrical Sound):
(Theatrical Re-Issue Soundtrack):
(DTS Bit Rate):
(Dolby Digital Bit Rate):
(Additional Languages):
(Subtitles):
Trolls takes place in the colorful, richly textured Troll Village, full of optimistic Trolls, who are always ready to sing, dance, and party. When the comically pessimistic Bergens invade, Poppy (Kendrick), the happiest Troll ever born, and the overly-cautious, curmudgeonly Branch (Timberlake) set off on an epic journey to rescue her friends. This mission is full of adventure and mishaps, as this mismatched duo try to tolerate each other long enough to get the job done. Also available as a 4K Ultra HD version. Based on the Good Luck Trolls created by Thomas Dam. (Gary Reber)
Special features include a Play Mode in which you can sing, dance, and laugh along with the Trolls in this interactive feature; five featurettes: Travel Through Troll Village (HD 04:43), The Potion For Stop-Motion (HD 05:06), Creating Troll Magic (HD 05:21), Troll 2 Troll (HD 04:46), and Inside The Bunker (HD 02:54); deleted scenes (HD 07:24); the theatrical trailer; upfront previews; and a digital copy.
The 2.37:1 1080p AVC picture uses stop-motion scrapbook animation, along with conventional animation, incredibly well. Amidst the youngest children, the imagery is wonderfully colorful, with fully saturated primary and pastel hues throughout, It seems, every imaginable color comprises the palette. The numerous characters are really cleverly depicted. Contrast is excellent, with deep blacks and dark shadows. Resolution is superb, with fine detail throughout in Troll and Bergen textures, and earthy environments, and especially in Bergen Town. This should be a thrill for the younger ones, with fascinating characters and vivid colors, though, it is doubtful they will consciously appreciate the reference quality. (Gary Reber)
The DTS-HD Master Audio™ 7.1-channel soundtrack is quite dynamic, with great sound effects, often enhanced with deep bass. Of course, there is a lot of singing and dancing throughout, which is nicely enveloping throughout the soundfield. The music occupies a very wide soundstage and extends aggressively to the surrounds, all four of them, for a wonderfully immersive soundfield. All throughout, dialogue is perfectly intelligible and well integrated spatially. And the songs and singing are wonderful as well. This is a really fun holistic® presentation with reference-quality fidelity and dynamic punch. (Gary Reber)