BLU-RAY REVIEW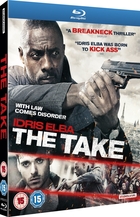 Take, The
Basic Information on new release titles is posted as soon as titles are announced. Once reviewed, additional data is added to the database.
(Studio/Distributor):
Universal Studios Home Entertainment
(Catalog Number):
62178086
(MPAA Rating):
R
(Rating Reason):
Violence, language and some nudity.
(Retail Price):
$$26.98
(Disc Type):
Single Side, Dual Layer (BD-50)
(Widescreen Edition):
Yes
(Full Screen Edition):
(Running Time In Minutes):
92
(Color Type):
Color
(Chaptered/Scene Access):
Yes
(Closed Captioned):
Yes
(Regional Coding):
A
(Theatrical Year):
(Theatrical Release):
Yes
(Direct-To-Video Release):
(Disc Release Date):
2/7/2017
(THX® Digitally Mastered):
(Director):
James Watkins
(Screenplay/Written By):
(Story):
(Music):
(Director Of Photography):
(Production Designer):
(Visual Effects):
(Costume Designer):
(Editor):
(Supervising Sound Editors):
(Re-Recording Mixers):
(Executive Producers):
(Co-Producers):
(Producers):
(Academy Awards):
(Principal Photography):
(Theatrical Aspect Ratio):
(Measured Disc Aspect Ratio):
(Disc Soundtrack):
DTS HD Lossless 7.1
(Theatrical Sound):
(Theatrical Re-Issue Soundtrack):
(DTS Bit Rate):
(Dolby Digital Bit Rate):
(Additional Languages):
(Subtitles):
In The Take, a rogue CIA agent helps a small-time criminal. Sean Briar (Elba), the CIA agent, isn't afraid to step on a few toes to solve a case. While roaming the streets of Paris, a pickpocket (Madden) swipes a bag containing a bomb and inadvertently ruins a bank heist attempt by corrupt French government officials. Now labeled as a terrorist threat and running for his life, the only person who can save him is Sean. This unlikely duo join forces to solve the case before they become victims in a devious plot of international conspiracy. (Gary Reber)
Special features include a making-of featurette (HD 02:09), upfront previews, and an UltraViolet digital copy.
The 2.38:1 1080p AVC picture exhibits a slightly roughish veneer-veiled color palette, to stylize the appearance. This veneer distracts from perceived natural imagery. There is a bit of yellowish tint to the imagery as well. Contrast is decent, given generally overcast day lighting. Black levels are deep and shadow delineation is respectable. Fleshtones are cast in the yellowish hue. But other colors are generally vibrant, with strong primaries. Overall, this is a filtered stylized picture, which may be the intent, but other productions in this genre have presented a better look. (Gary Reber)
The DTS-HD Master Audio™ 7.1-channel soundtrack overall sounds veiled, while delivering at times a dynamic soundscape, which energizes all eight channels. Atmospherics are more prominently frontal focused, then energized with boisterous sound effects, such as powerful-sounding gunfire and explosions, heightened in intensity with .1 LFE energy. The orchestral score is rather constant throughout, with a wide and deep soundstage, but generally positioned as background fill. Dialogue is intelligible, with decent spatial integration, and the French dialogue is accompanied with subtitles. Overall, this is a satisfying soundtrack, with segments that deliver a holosonic® presence. (Gary Reber)